Works by the composer claim four out of the five top spots, including number one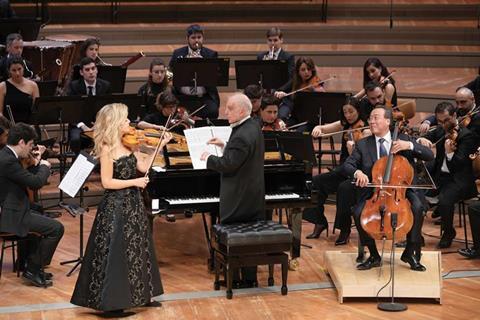 In spite of the widespread cancellation of Beethoven concerts and events to mark the 250th anniversary of his birth, interest in the composer has had an effect on CD sales in his homeland. Four of the top five albums in the classical music charts feature Beethoven's music, including two by The Strad's recent cover stars.
Top of the list is the new recording of Beethoven's 'Triple' Concerto by Anne-Sophie Mutter, Yo-Yo Ma and Daniel Barenboim conducting the West-Eastern Divan Orchestra. In The Strad's April issue, Mutter said: 'Yo-Yo's improvisando style, his freeness and the fact that he plays without the score – which literally removes the obstacle between you and the music – all lend themselves to an instant type of communication, like telepathy, which enhances the spontaneity of the performance and the intimacy of the dialogue.'
Read: Anne-Sophie Mutter: The Big Picture (subscribers only)
Watch: Anne-Sophie Mutter: A Life with Beethoven
Watch: Yo-Yo Ma performs Beethoven with Emanuel Ax
In fourth place is the Ébène Quartet's marathon recording of Beethoven's complete string quartets. In the February issue, violinist Gabriel Le Magadure spoke about their inspiration; 'Although Beethoven was German, he could have been so many other nationalities and living at another time. With the idea of universalism irrigating his music so much, we wanted to test it with different cultures in our time. Maybe he isn't able to speak 200 years later to Maoris or Kenyans or Brazilians, but perhaps we can serve his will. This probably brings additional pressure, but Beethoven is the greatest composer for string quartets so he merits taking on great challenges; and actually, I don't have a desire to record these works without an audience. When you hear the Grosse Fuge or the late opuses or the "Rasumovsky" quartets, they feel like live music.''
Read: Ébène Quartet: The Freedom of Instability (subscribers only)
Read: How to replace a quartet member, by the Ébène Quartet
Read: Players of Ébène Quartet aboard aircraft as engine catches fire
Also in the top five are pianist Grigory Sokolov performing Beethoven and Brahms piano sonatas; and fellow pianist Igor Levit performing the composer's complete piano sonatas. Seventh in the charts comes Lisa Batiashvili's City Lights album, which the Moldovan violinist spoke about in the January 2020 issue.
The Official German Classical Charts are determined monthly by GfK Entertainment on behalf of the Federal Association of the Music Industry. The list is based on the sales data of 2,800 retailers.
Photo: Peter Adamik/DG