Brand new handmade classical guitar destroyed en route from Spain to US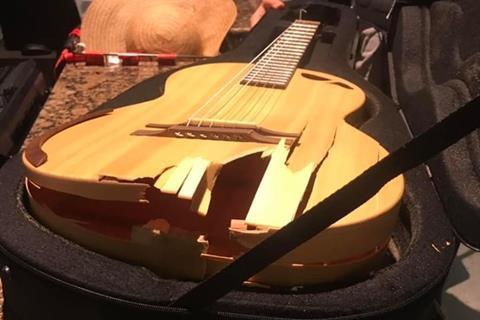 Guitarist Jonathan Dotson posted yesterday about travelling from Madrid to the US on the same American Airlines flight as a young musican whose brand new hand-made guitar arrived in pieces after being checked in to the hold.
'Coming home from Madrid yesterday I witnessed a young man, probably no older than 15, in tears as his brand new, handmade classical guitar was destroyed by the airline on its maiden voyage home,' Dotson wrote on Facebook, with an accompanying photo.
Dotson said he spoke to the teenager's father and ascertained that the guitar cost 'several thousand dollars' and that they were told by airport staff that the only option was to check the instrument in, despite American Airlines' stated policy that instruments can be taken on board if they fit in the overhead bins.
Dotson also suggested that there was no reason to think there would not have been room for the guitar, and that he himself was 'one of the last people on the plane and walked right on with my instrument'.