The Moldavian violinist has been granted use of the 1699 instrument by Beare's International Violin Society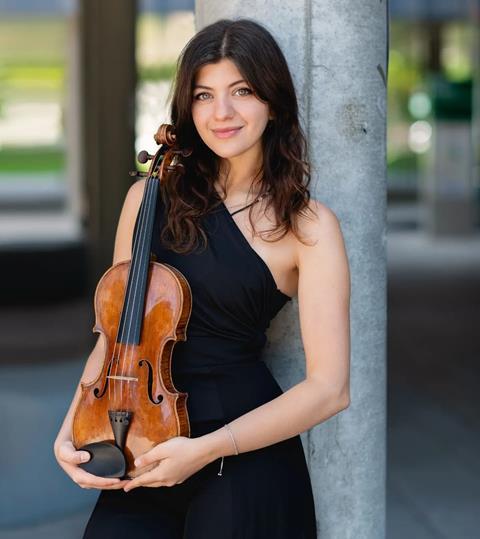 The 1699 Stradivari violin formerly played by Polish-born violinist Ida Haendel will be played by Alexandra Tirsu. The loan was facilitated by Beare's International Violin Society through J&A Beare's.
'Delighted to play on the Ida Haendel Stradivari on loan from JP Charitable Foundation,' said Tirsu on social media. She will play the instrument for her debut recording with the London Symphony Orchestra, on which she will perform 'Exciting and very personal repertoire: Tchaikovsky Violin Concerto, Beethoven Romances and a Violin Concerto written and dedicated to me by amazing Paul Lorenz,' she continued.
Tirsu was a laureate of the 2021 ARD competition, where she received third prize and the audience prize. She has received prizes at the 2018 Seoul International Music Competition and the 2014 Osaka International Competition.
She completed her undergraduate degree in Vienna under the tutelage of Pavel Vernikov. She is currently studying in Sion with Janine Jansen, to whom she has 'endless gratitude… for her support and mentorship.'
Haendel played on the 1699 Stradivari for most of her career. 'Most good instruments are built rather heavily,' she said in 1986. 'I was very lucky to find this one. It has a very beautiful sound and is a lovely-looking instrument. A lot of people think it is one of the best. It doesn't have an extremely loud sound, but then I never thought that the violin should be like an explosion!'