The short work for viola and piano, the discovery of which was announced on the composer's birthday, appears to have been written in one sitting in 1931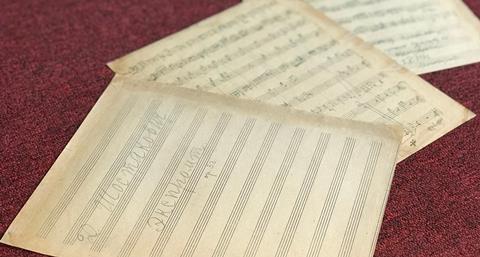 A previously unknown work by Dmitri Shostakovich, a viola impromptu, has been discovered in Moscow's central archive, it was announced on 25 September, the composer's birthday.
The short work, consisting of title sheet, a single page for the viola part and one for the piano score, is titled Impromptu op.33. It was found among documents belonging to Vadim Borisovsky (d. 1972), the violist of the Beethoven Quartet for over 40 years.
The autograph on the title page, dated 2 May 1931, Leningrad, when Shostakovich was 24, dedicates the work to 'Alexander Mikhailovich' – assumed to be Alexander Ryvkin, violist of the Glazunov Quartet. It is dedicated 'in memory of our meeting' and this, along with the exact date and peculiarities of the score, as well as the title itself, are seen as conclusive evidence that the work was written spontaneously, in one sitting. A number of relevant authorities confirmed the autograph's authenticity prior to the announcement.
It is not known how the work passed from Ryvkin to Borisovksy, nor why Shostakovich later recycled the opus number for The Song of the Counterplan, the title music for the 1932 film Counterplan.
It becomes only the second known piece for viola by Shostakovich, along with his final work, the Viola Sonata of 1975, an absolute staple of the instrument's repertoire.