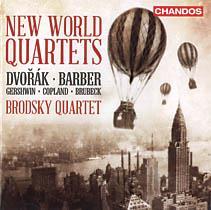 The Strad Issue: January 2014
Description: A novel collection let down by indulgence in the headline work
Musicians: Brodsky Quartet
Composer: Dvorák, Copland, Barber, Gershwin, Brubeck
There is excellent playing on this CD: it starts at track five. The first four contain a fussy, mannered performance of Dvorák's 'American' Quartet, which has the feel of an 'interpretation', and an indulgent one at that. Daniel Rowland, too fond altogether of portamento, bulges and slides around. The second movement stays steady, perhaps held together by the flow of semiquavers in the viola, but the fat vibrato remains dominant. The last movement, with its feverish energy, fares better, but it's all very interventionist.
Following Dvorák, Copland's Two Pieces – tragic Lento and perky, restless Rondino – are pretty much left to speak for themselves. Barber's Quartet receives a serious, probing performance. The first movement has power and passion, but relaxes as well. The slow movement is wonderful – it has its big climax of course, but this is an introspective, personal reading, a far cry from the cranked-up string-orchestra version.
Rowland's penchant for slides resurfaces in Gershwin's Lullaby, an early work with a good tune in the middle. Copland's Hoe Down is probably the only work here which sounds distinctively 'American', and the musicians have great fun playing their own arrangement. Dave Brubeck arranged his own Regret, a steady, melancholy work, especially for the Brodskys. The recorded sound is warm and clear.
TIM HOMFRAY