Freelance musician and Alexander Technique tutor Aingeala De Búrca claims that she was removed from the flight from Bristol to Dublin this week when she attempted to stow her instrument in the overhead locker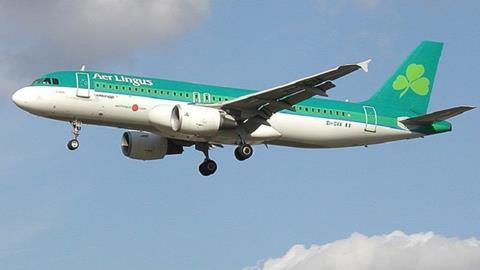 A violinist has alleged that she was removed from an Aer Lingus Regional flight, operated by Stobart Air, from Bristol to Dublin on Sunday when she attempted to stow her instrument in the overhead locker.
Freelance musician and Alexander Technique tutor Aingeala De Búrca, who is based in Stockholm and Dublin, says the issue arose when an employee of Menzies Aviation, which is contracted by Aer Lingus/Stobart Air to provide ground staff at Bristol Airport, informed her that she would have to check her instrument into the hold. The man identified himself as 'Nick' the flight dispatcher, but would not provide a surname:
'No amount of pleading or explaining that [my violin] was too fragile and would be almost certain to be damaged in the hold had any impact on him,' said De Búrca. 'He seemed deaf to anything I had to say and continued to talk over me, treating me with disdain and disrespect.'
She continued: 'When Nick turned away from me to someone else, I moved away and joined the queue for the plane. I fully intended to speak to the crew to ask for help. I talked to others in the queue who let me go ahead. When I boarded the plane, I spoke to the first cabin crew person and she asked me to sit to one side for a while. As I sat in the last row, I watched others board: some with really big bags, some with more than one. I was furious. All I had was one violin and a small cloth bag with some small essentials in it such as my phone, purse and passport.'
De Búrca then took the decision to move to her assigned seat, stowing the violin in the overhead compartment above her. However Nick entered the cabin once the plane was fully boarded and informed the musician 'that he had the power to ban me from flying with the airline again and threatened me with arrest by the police.'
De Búrca therefore felt she had no choice but to leave the plane. However, when she made her way to the Menzies desk to issue a complaint, she was confronted again by Nick who informed her that he would 'receive the complaint'.
Nick re-booked De Búrca onto a flight the following morning, but insisted that her violin would have to be stored in the hold, explaining that he would personally see to it that the instrument was placed in the plane's 'tail', where it would be less likely to be damaged. 'I was terrified,' said De Búrca, 'but in the end, after all of this bullying, all I could do was go through the process and hope for the best.'
When the violinist arrived at the airport the following morning she was met by a different man, who had been informed of the situation. Despite his initial insistence that the violin be placed in the hold, he eventually relented and De Búrca was able to travel back to Dublin with her instrument safely stowed in the overhead cabin bin.
'I have always found Aer Lingus helpful with my violin,' said De Búrca. 'However this experience has left me very insecure about flying. And like many musicians, flying has to be a part of my working life. A violin is not 'luggage' or 'baggage'; it is one of the most important parts of my life...in over two decades of frequent travel, I have never had a problem until [this week], and have always placed my violin in the overhead compartment where it fits easily, even on smaller regional planes.'
De Búrca has now made an official complaint to Aer Lingus and has also published details of the incident on her Facebook page.
Aer Lingus cabin baggage policy states: 'Small musical instruments can be carried as cabin baggage if they're within your cabin baggage size/weight limits [48cm H x 33cm W x 20cm D]. They must be small enough to fit in the overhead locker, or under the seat in front of you.'
A Stobart Air spokesman has responded with the following comment:
'The baggage exceeded the permitted cabin baggage dimensions. The flight was fully booked and therefore all hand baggage space was strictly limited to items within the permitted dimensions.'
Photo: Arpingstone