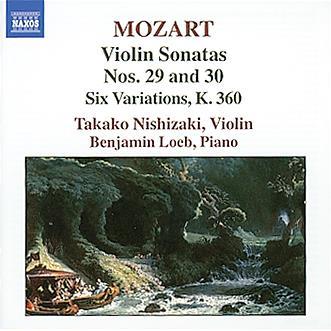 The Strad Issue: January 2006
Musicians: Takako Nishizaki (violin) Benjamin Loeb (piano)
Composer: Mozart
This sixth volume of Mozart's complete violin sonatas doesn't actually contain any complete Mozart violin sonatas. Two of them were finished by Maximilian Stadler after the composer's death, while K570 is a piano sonata with a violin part tacked on by an unknown hand.
The first work on the disc is a set of doleful variations on a French song, in which the players lay out their stall with clean, deft playing. The opening Andante of the A major Sonata they unfold at a leisurely pace and leave largely to speak for itself, a few touches of rubato aside. The fugue that follows is similarly relaxed, untrammelled by urgency or musical events. This remains largely true throughout the disc. There is a fine line between elegance and politeness, and these players err on the wrong side of it: there is nothing here to distract the vicar from his cucumber sandwich. The dynamic range is limited, and there is rarely any sense of forward motion. Mozart's accompanimental figures plod along evenly, neither responsive to the melody nor seeming to be going anywhere in particular. The recorded sound is clear enough, although the forward placing of the violin doesn't favour the many passages where it is subservient to the piano.
TIM HOMFRAY