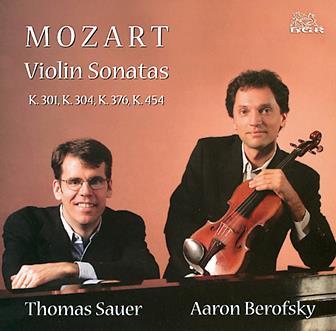 The Strad Issue: January 2008
Musicians: Aaron Berofsky (violin) Thomas Sauer (piano)
Composer: Mozart
Aaron Berofsky argues in the CD booklet that Mozart described this group of works as 'Sonatas for Keyboard and Violin' out of convention, which didn't prevent his later scores bringing the two instruments into parity. That may be the case, but here we too often have the violin's accompanying passages given an importance that is out of context. It is a pity, because the performances are otherwise generally likable, with the music emerging at unhurried tempos that never strain to communicate the music's joy.
Berofsky was a student of Dorothy DeLay at the Juilliard School, and names Robert Mann and Felix Galimar among his subsequent mentors. He is now heavily committed to teaching, but his playing career has taken him to the leader's chair in the Chester Quartet and concertmaster of the Ann Arbor Symphony.
Though this group of sonatas is undemanding on technique, it is clear that the refined tone, smooth bowing technique and reliable intonation come from a violinist of notable quality. Berofsky's graceful slow movements of K376 and K454 are a particular pleasure.
Thomas Sauer is a neat, uncomplicated and responsive Mozartian whose lyric approach and long-breathed passages form the ideal melodic line around which the violin can spin a web of unadorned simplicity. Maybe there could have been a greater sense of melancholy in his opening movement of K304 and more warmth in K301; and when I would expect Berofsky to drop to a mere whisper it often does not happen.
Apart from reservations of balance, the sound quality is unassuming and pleasing to the ear.
DAVID DENTON