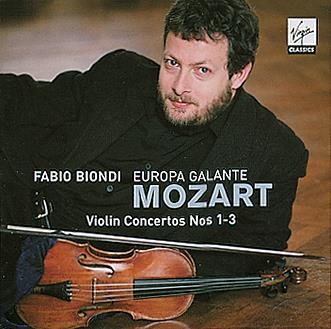 The Strad Issue: January 2006
Musicians: Fabio Biondi (violin/director) Europa Galante
Composer: Mozart
The day before I began appraising this disastrous disc, I was listening with pleasure to one of the CDs of Boccherini quintets by Fabio Biondi and Europa Galante. It is not a long journey from Boccherini to Mozart, but somewhere along the way, Galante has become Pesante.
This programme takes us back to the days when we used to say knowingly that Italians could not perform Mozart – no, not even Toscanini. Since then certain singers, in particular, have done much to change our minds, so this relapse is alarming.
The old faults are all here: rhythmic incompetence, clumping, often downright graceless orchestral playing, stylistic ignorance. To that catalogue, Biondi – who can be a terrific violinist – has added the gung-ho sensationalism that made his second attempt at Vivaldi's Four Seasons so much less enjoyable than his first.
Most of the faults can be heard in the opening movement of the programme, the Allegro moderato of K207, which features some really weird pauses. Both short-term and long-term rhythmic control is non-existent – one wonders what the producer was doing while this awful performance, with its clumping bass-line, was being perpetrated.
If the grinding, grating, hob-nailed accompaniment to the Adagio of K216 is correct, then Kuijken, Mullova and Huggett – all of whom have made excellent recordings of Mozart concertos on period instruments – are wrong.
My own preference for this kind of performance lies firmly with the Kuijken set (Denon) in which he shares solo duties with Ryo Terakado.
TULLY POTTER