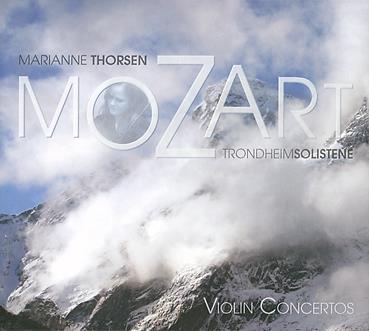 The Strad Issue: January 2007
Musicians: Marianne Thorsen (violin/director) Trondheim Soloists
Composer: Mozart
People who invest in expensive hi-fi have a real need for superfine recordings which are also good performances. This package, containing two discs – an ordinary CD and an SACD – with the same music on both, is clearly aimed at such folk, as there is very little about the music on the cover, just a few pretentious sentences.
It should find a ready market. The performances of all three concertos are alert and very well played. The little band (strings 5-4-3-3-1) is convincingly placed in the sound stage and the soloist is not over-spotlighted, so that the collaborative nature of the venture is stressed.
Marianne Thorsen plays with impeccable style, fine (if small) tone and natural musicality, leaning into her phrases with an attractive no-nonsense approach. What I miss are those little touches of individuality that still keep me listening to Erica Morini's performances of K218 and K219, more than 40 years after they were recorded.
There is nothing here that one could object to, as one could with, say, Kavakos's recent Sony set (reviewed last month). Equally, there is nothing here to match the penetrating personality of Kavakos's tone. At the same time, the performances do confirm the positive impression that Norwegian string players have been creating in recent years.
There is one little quirk: towards the end of the A major Concerto's rondo, instead of the expected lead-in from the soloist we are given a little orchestral cadenza based on the Turkish episode. Amid such otherwise unexceptionable performances, it comes across as rather strange.
TULLY POTTER