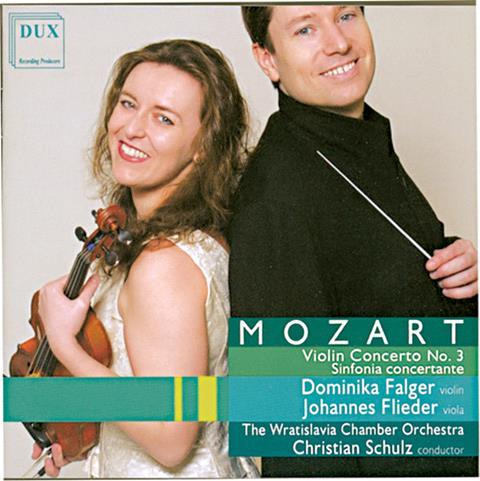 The Strad Issue: January 2008
Musicians: Dominika Falger (violin) Johannes Flieder (viola) Wratislavia Chamber Orchestra, Christian Schulz (conductor)
Composer: Mozart
When little-known artists record major concertos, they are often in danger of being overlooked when compared with the world's great soloists. Such an outcome would be unfortunate in the case of the experienced violinist Dominika Falger, presently the principal of the second violin section of the Vienna Symphony Orchestra. Her unaffected reading of Mozart's G major Concerto is constantly pleasing: she brings a fresh and delicate approach to the opening movement, and I much enjoy the urgent and lyrical qualities that she brings to the slow movement. Maybe her earnest way with the finale misses a little of the music's inherent happiness, but throughout there is reliable technique and intonation.
In the Sinfonia concertante she is joined by her viola colleague from the Vienna orchestra, Johannes Flieder, whose light tone nicely complements Falger's silvery Bernardo Calcagni violin. Although they lack mystery at their first entry, they offer a bold and vigorous opening movement and a vivacious account of the finale.
The conductor, Christian Schulz, is responsive to the soloist's view of both works, and the Polish-based Wratislavia Chamber Orchestra provides an agreeable accompaniment.
Before even comparing her with other soloists, I find Falger compromised by the recording which sets her some distance from a microphone and places her in the midst of the orchestra, a balance that continues in the Sinfonia concertante. Maybe she wanted it that way, but I doubt that it will find much support.
DAVID DENTON