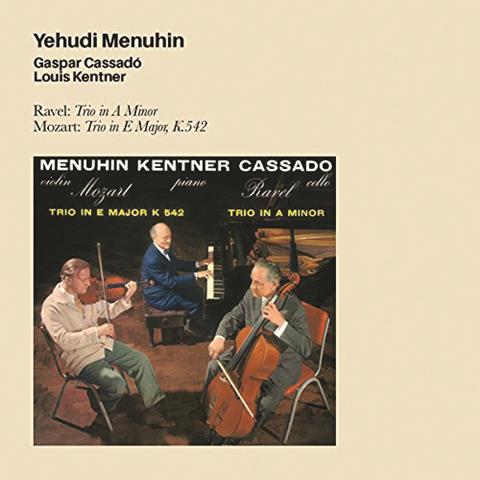 The Strad Issue: March 2016
Description: Classics reissued – and the Ravel Trio for the first time on silver disc
Musicians: Yehudi Menuhin (violin/director) Gaspar Cassadó (cello) Louis Kentner (piano) Bath Festival Orchestra
Composer: Mozart; Ravel
The old LP of the Ravel and Mozart trios introduced me to the works, more than 50 years ago. The Ravel, on CD for the first time, is launched by Louis Kentner with a crystalline touch. It is a typical performance by virtuosos who do not play together regularly (despite his credentials as a Ravel pupil, Gaspar Cassadó comes in too early at one point), but it is very beautiful, apart from Menuhin's occasional scratchiness when using the side of the bow hair. Both string players execute nice portamentos except in several places where they are essential stylistically!
The recording of the Mozart has always struck me as a classic. I love the aplomb with which Cassadó executes his part in the opening Allegro. Kentner introduces the Andante grazioso so graciously, Menuhin playing the second theme beautifully. The finale is sunny and untroubled.
Curiously, a mono LP is used for the transfers – the disc was issued in mono and stereo. EMI's own transfer of the Mozart has good stereo spread and depth, while these transfers have some distortion. The oft-reissued K216 is Menuhin at his poised, mellifluous best, with lovely, stylish playing from all concerned. As usual, he favours Sam Franko's cadenzas.
Tully Potter