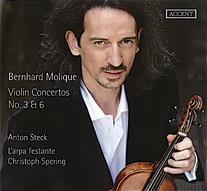 The Strad Issue: January 2013
Description: A generally successful attempt to explore 19th-century performance practice
Musicians: Anton Steck (violin) L'arpa festante/Christoph Spering
Composer: Molique
The 'historically informed' nature of this disc is hinted at modestly on the packaging rather than used as a selling point, although Anton Steck (a former pupil of Reinhard Goebel) is known as an established period performer and the scholarly booklet notes by Kai Kopp about the compositions and performing practices of Spohr pupil Bernhard Molique (1802–69) further suggest its historical intentions.
The results are interesting and mostly successful. Molique's dramatic concertos recall those of the Viotti school, and Steck's languid portamento and sparing vibrato demonstrate a fitting understanding of 19th-century practice. But there are shortcomings – in the Third Concerto, for example, there are moments of incongruous modern vibrato, some strained passagework and in the slow movement, orchestra and soloist could create more declamatory variation. Intonation can be questionable, as at the opening of the Sixth Concerto, and the same work's finale is marred by some rather apologetic descending portamentos and scratchy articulation. Christoph Spering creates some convincing sonorities in the orchestra, especially in the finale of no.6.
This well-presented disc displays a generally successful attempt to evoke period sound in unjustly neglected music and, in spite of its flaws, it shows an exciting willingness to tackle 19th-century performing practices.


DAVID MILSOM