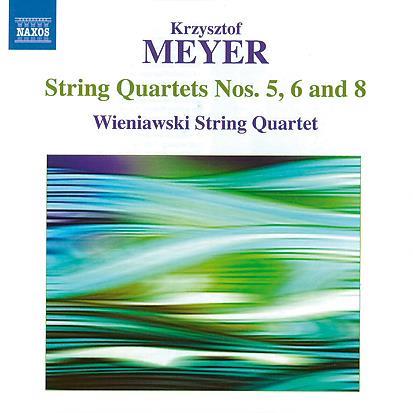 The Strad Issue: January 2009
Musicians: Wieniawski Quartet
Composer: Meyer


The Wieniawski Quartet features front-desk performers whose mutual understanding has matured over eleven years, and whose name (honouring Poland's greatest violin virtuoso) sets them daunting challenges to which they rise effortlessly. It is led by Jaroslaw ?olnierczyk, concertmaster of the Amadeus Chamber Orchestra – a match for many German radio orchestras.
Krzysztof Meyer (b.1943) is a name, like Górecki or Penderecki, that string players deserve to know well, since his oeuvre embraces concertante works for violin, cello, violin and cello together, harp and cello, and even four cellos and orchestra.
Meyer's admiration for Shostakovich shows in several bewitchingly spare, sad passages here (cellist Maciej Mazurek's lonely and beautiful launch into Quartet no.5 is typical), while Bartók's spirit presides over Quartet no.8 (1985), whose movement titles ('Furioso', 'Infernale' 'Drammatico') betray an exciting, conscious narrative strain in Meyer's music. All four players are magnificently persuasive in the ten-minute Lento that rounds off Quartet no. 6 (1981); and the same is true of all five of the (untitled) movements of no.5 (1977).
Imaginatively structured, acknowledging and moving beyond Lutoslawski, Meyer's music is intense yet melodious. His is surely a thrilling voice on the European contemporary music. With the help of this Naxos offering – a top-drawer Polish recording – or Toccata Classics's recording of Meyer's complete works for cello and piano, now is the time to discover him.



Roderic Dunnett