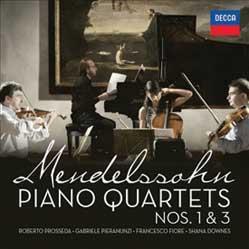 The Strad Issue: January 2013
Description: A rare coupling of Mendelssohn's two violin concertos
Musicians: Tianwa Yang (violin) Romain Descharmes (piano) Sinfonia Finlandia Jyväskylä/Patrick Gallois
Composer: Mendelssohn
In certain respects, the Mendelssohn E minor Concerto is the most demanding of all the great violin concertos. Everything must sound entirely effortless, with audible position changes kept to an absolute minimum, activated by bow-strokes that float as though on a warm cushion of air. What's more, the music cries out for an unforced sound of radiant purity, coloured by a narrow, relatively fast yet relaxed vibrato. Nathan Milstein comes closer than just about anyone to the ideal in this piece, but Tianwa Yang also proves an outstanding advocate, soaring aloft on the surging tide of Mendelssohn's inspiration with captivating spontaneity and disarming sincerity. Magic moments abound, but the beguiling way Yang winds down into the recapitulation of the opening movement's heart-warming second theme is unforgettable.
If just occasionally the expert Sinfonia Finlandia could ideally have played with a little more fire in its collective belly in the E minor, the ever-attentive Patrick Gallois judges the post-Classical gestures of the D minor Concerto to perfection. Yang sounds completely immersed in Mendelssohn's prodigious genius both here and in the F minor Sonata (sensitively accompanied by Romain Descharmes), which unfolds with a childlike sense of wonder. Fine engineering too, if just a shade dry in the Sonata.


JULIAN HAYLOCK