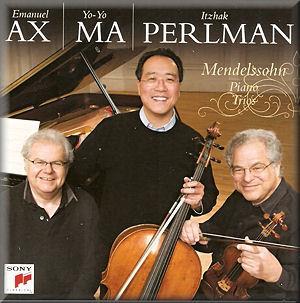 The Strad Issue: January 2010
Musicians: Itzhak Perlman (violin) Yo-Yo Ma (cello) Emanuel Ax (piano)
Composer: Mendelssohn
This grouping of ?three star?names ?offers performances ?with an exuberant ?sweep in playing of glowing warmth and purposeful strength.?There is an abundance of detail?brought about by the immaculate balance between instruments, and the ready willingness of each member to take?an accompanying role.
Yo?Yo Ma sets the scene with?an impassioned opening cello theme to the D?minor Trio. We have moved a long way from the days when Mendelssohn was viewed with gentility, and this whole reading has something more akin to a Brahmsian weight. Yet the players are ever mindful of the dynamic markings required for the elfin lightness of the scherzo, and the happiness it generates spills over into a vivacious reading of the finale.
Emanuel Ax relishes the moments in the?opening movement of the C minor Trio where the piano dominates, and maybe some of the quieter dynamics are not held down to their appropriate level in the slow movement. The scherzo, taken at a tempo as close as you can get to the composer's optimistic marking, is suitably wispy, and the three players view the finale as a massive statement, its closing pages pushed forward with exuberance.
Technically the playing is outstanding and the recording quality helps in conveying its weight.


DAVID DENTON