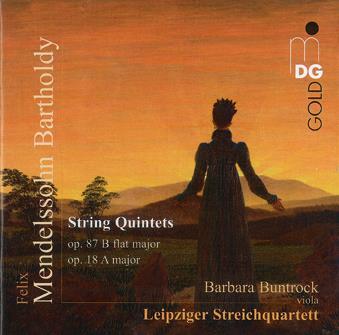 The Strad Issue: January 2013
Description: Vibrant readings of works from both ends of Mendelssohn's short life
Musicians: Leipzig Quartet, Barbara Buntrock (viola)
Composer: Mendelssohn
Such was Mendelssohn's creative genius that when comparing works in the same genre it is not always immediately apparent whether one is listening to a work of his maturity or one of his teenage miracles. The two string quintets are a case in point: the relatively early op.18 in A major finds the composer responding to the lyricism of Beethoven's late piano sonatas with astonishing individuality and maturity, whereas the invigorating stile brillante of op.87, which the Leipzig players tellingly place first on this disc, sounds for all the world like a spin-off from the prodigy Octet.
In op.18, the Leipzig ensemble, with the highly gifted young violist Barbara Buntrock, may not quite rival the magically phrased account of the opening Allegro con moto by Hausmusik led by Monica Huggett (Virgin Classics), but their ace card is a truly 'vivace' allegro finale whose higher adrenalin count tends to trump the period-instrument ensemble's gentle dancing.
Yet what sets this disc apart is one of the finest accounts of the B flat major Quintet to have appeared on disc since the blazingly charismatic reading from the Guarneri Quartet and Pinchas Zukerman in the 1970s (RCA, and still inexplicably awaiting transfer to CD). Even here the German players could have allowed the music's bustling, pseudo-orchestral textures more free rein, although their exhilarating detailing of Mendelssohn's sleight-of-hand contrapuntal intricacies (engagingly caught by the microphones) brings a special sense of frisson.
JULIAN HAYLOCK