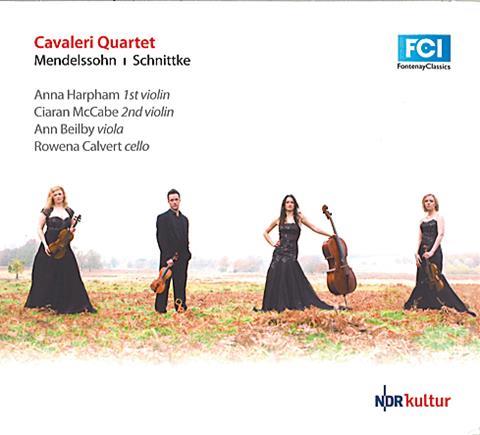 The Strad Issue: January 2013
Description: A fresh-faced but patchy disc, despite its intriguing coupling
Musicians: Cavaleri Quartet
Composer: Mendelssohn, Schnittke
My commercial instincts question the viability of a release whenever I encounter such an unusual coupling as this – I wonder about the target audience that will be attracted to such totally different works. That is particularly true when you can enjoy the exceptionally fine performance of Mendelssohn's A minor Quartet from the Mandelring Quartet (Audite) in a disc devoted to that composer.
In a less crowded marketplace, the young London-based Cavaleri Quartet would draw encouraging words for its fresh-faced account, but the players do have intonation problems, particularly when rushing into passages during the first movement. In the following Adagio non lento they have a tendency to slow the pulse at the end of phrases, and I missed the razor-sharp dynamic contrast in the scherzo. Their most impressive moments come in the drama of the finale.
The players prove to be much more suited to the sound world of Alfred Schnittke. Here they move around the aurally pungent moods of the Third Quartet with complete assurance, feelings of angst giving way to peace and resignation as the work spells out Shostakovich's emotive D–S–C–H monogram in its closing passage.
Overall, the disc is quite short in length, and its sound is overly smooth and lacks my desired degree of transparency.



DAVID DENTON