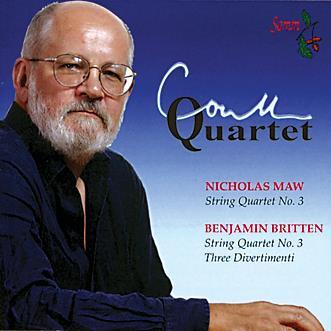 THE STRAD RECOMMENDS
The Strad Issue: January 2007
Musicians: Coull Quartet
Composer: Maw, Britten
Nicholas Maw, now resident in America, is one of the outstanding figures from a British senior generation that includes Richard Rodney Bennett, Hugh Wood and Harrison Birtwistle. Stylistically he has more in common with the first two, maintaining a strong vein of lyricism while exploring in his orchestral and chamber output – including a violin concerto and earlier string quartets from 1965 and 1982 – sensual melodic writing (sometimes serially inflected), sensuous instrumental colourings and luscious, periodically diatonic harmonies.

This very warmly recorded Somm disc proves valuable, bringing home just how Britten's developed musical language and Maw's intertwine. Britten's Third Quartet is one of his last musical testaments – he heard it only a few days before he died – and it suggests exciting directions that his music might have taken had he lived. Every corner contains the oblique and unexpected. Its culminating Recitative and Passacaglia lead to an intense conclusion, beautifully played here, which provides parallels with the fierce emotive pull of the final Lento in Maw's work, itself feeling like a modern take on not just the Chacony of Britten's Second Quartet, but Strauss's Metamorphosen.

In the Britten quartet's third movement, Solo, leader Roger Coull captures gorgeously the aubade feel of Britten's writing, lit up by rapt, twilight echoes of the composer's Les illuminations. The two lower strings also excel in the Recitative: vital pizzicatos exemplify the magnificent, seasoned ensemble of the Coull.

The Three Divertimenti date from 1933–6. The Burlesque feels like a sizzlingly played Russian kopak, whereas the subtle Waltz typifies the sophisticated daring of the precocious young Britten.
Roderic Dunnett