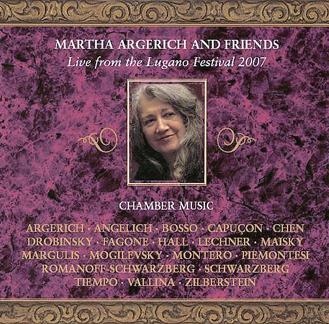 The Strad Issue: January 2008
Musicians: Renaud Capuçon (violin) Alissa Margulis (violin) Lucia Hall (violin) Dora Schwarzberg (violin) Lida Chen (viola) Nora Romanoff-Schwarzberg (viola) Mischa Maisky (cello) Mark Dobrinsky (cello) Jorge Bosso (cello) Enrico Fagone (double bass) Martha Argerich (piano) Lilya Zilberstein (piano) Gabriela Montero (piano) Karin Lechner (piano) Alexander Mogilevsky (piano) Francesco Piemontese (piano) Sergio Tiempo (piano) Nicolas Angelich (piano) Mauricio Vallina (piano)
Composer: Beethoven, Mozart–Busoni, Schumann, Ravel, Glinka, Messiaen, Bartók, Dohnányi & Lutoslawski
This is the fifth of the annual three-CD sets from the Martha Argerich Project at the Lugano Festival, a feast of live recordings featuring both young and established players in a wide range of repertoire. It opens with Beethoven's 'Ghost' Piano Trio op.70 no.1, with Argerich joined by violinist Renaud Capuçon and cellist Mischa Maisky in an open, vibrant performance (marked from the outset by Maisky's generous vibrato). The great slow movement, with the players close-miked, is dark and forceful, although the balance is a little awry in places with Capuçon's repeated semiquavers overpowering the dialogue between cello and piano. But such are the hazards of live recording, and this is gripping playing.
Capuçon and Argerich are together again on the third CD for a performance of Bartók's First Violin Sonata. Capuçon here is masterly, following the composer's elastic lines with an almost vocal subtlety, shifting on an instant from vehemence to reverie. The solo opening of the second-movement Adagio is beautifully judged.
The second CD opens with a little-known gem: Beethoven's Piano Quartet in D major WoO36, written in 1785 when the composer was 14. Violinist Alissa Margulis, violist Lida Chen and cellist Mark Dobrinsky with pianist Karin Lechner turn in a sparkling and persuasive performance of this open-hearted work, with nicely turned pathos in the central Andante con moto and crisp, sprung playing in the dancing finale.
Margulis returns later on the same CD for a persuasive account of Messiaen's Thème et Variations with pianist Francesco Piemontese, working her way from introspection to heights of erotic ecstasy, her great pulsating swoops sounding alarmingly like an ondes martenot. On the third CD violinists Dora Schwarzberg and Lucy Hall, violist Nora Romanoff-Schwarzberg, cellist Jorge Bosso and pianist Nicholas Angelich give a rich, big-boned account of Dohnányi's C minor Piano Quintet op.1.
Elsewhere, Argerich performs Schumann's Kinderszenen, and plays piano duets with various partners in repertoire embracing Ravel, Busoni and Lutoslawski. These are generous CDs, full of fine performances imbued with the immediacy of live performance, and mercifully free of its vicissitudes: the audiences clap enthusiastically, but are otherwise unheard.
Tim Homfray