In this extract from the November 2021 issue, Raphael Gold profiles the bow making work of Pierre Aloysius Josephs and his family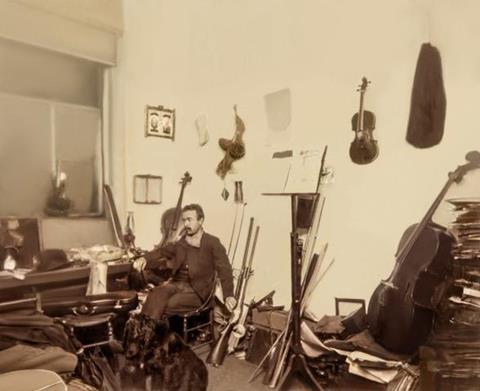 The following extract is from The Strad's November 2021 issue feature 'Bay Area bow makers: Bows on the bay'. To read it in full, click here to subscribe and login. The November 2021 digital magazine and print edition are on sale now
The very first bow maker in the San Francisco Bay Area was Pierre Aloysius Josephs. He was born in 1833 in New York, his father a prominent builder. Moving west with his family, Pierre studied violin in St Louis, Missouri, probably in the early 1850s. He developed a keen interest in violin making around this time. Eventually the family relocated to Elwood, Kansas, where he fought in the Civil War for the Union in 1861, a first lieutenant of the First Regiment Kansas Volunteer Infantry. He registered his profession as 'jeweler' in the 1863 Kansas military draft, an exacting and precise art that would inform his skill.
According to the family, he honed his abilities as a violin and bow maker during a series of business trips to Paris between 1864 and 1872, where he spent time at the shop of Jean-Baptiste Vuillaume. This claim is backed by an Ellis Island document from 1864; the influence is also clear in his workmanship. As early as 1870 he was working as a violin maker in St Joseph, Missouri, as listed in the local directory. He worked around St Joseph until 1876, when he boarded the newly incorporated railway line from St Louis to San Francisco with his nonagenarian parents, his second wife and their seven children. At first he settled in Oakland, California, moving to bustling San Francisco in 1877. He soon set up as a violin and bow maker at 1412 Kearny Street, in a three-generation household.
While his primary motive for moving west was to watch over his active, elderly parents, he may also have been motivated by the mild weather. In an 1886 newspaper article he credited California's climate for the success of his instruments, and briefly mentioned his bow making in San Francisco – the first mention of bow making in the region.
Pierre Aloysius, who also went by the name Peter, worked variously as a clerk, salesman and merchant, in addition to being a violin maker in California. Yet his skill was good enough for Vuillaume to recommend him to August Wilhelmj as the best repairman in the West; the great violinist was exuberant about Josephs' skill in a letter from 8 December 1881: 'I have been anxious to tell you… of the extraordinary success your labors have obtained.'
The evidence shows that Pierre Aloysius was a successful violin and bow maker in the early years of San Francisco. Throughout his time there he continued travelling to New York and even Europe – a huge and expensive undertaking in those days. In 1885 he returned from a European trip where he undoubtedly worked with his Parisian luthier and archetier contacts. He remained in San Francisco for eleven years, returning to New York with his second wife and their younger children in 1888. He died there in 1898.
Pierre Aloysius had two sons from his first wife who stayed in the Bay Area, where they laid down roots. John was a noted violinist and a founding member of the San Francisco Symphony in 1911. His other son, James Arnold Josephs, born in 1859 in Elwood, Kansas, learnt violin and bow making from his father. They worked together in San Francisco until he took over the shop when his father moved back to New York in 1888.
By 1898 James had 'earned a reputation as a maker of fine violin bows', according to the San Francisco Chronicle. This was an important achievement. Making violins and bows starting in 1877, and associated with his acclaimed father, James did not advertise his business. Customers knew of him by word of mouth, the quality of his work and repairs, allowing him to stay in business for decades. His reputation was certainly bolstered by that of his violinist brother John.
Josephs continued working on Kearny Street in San Francisco from 1877 to 1902, when he moved his residence and workshop across the bay to Alameda, and later Oakland. A dependable presence in the East Bay string world, James worked there, with a brief respite around 1930, right up until his death in 1943, aged 84.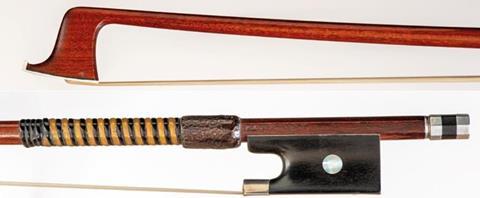 Photo: John Birchard
While it is known that Pierre Aloysius made bows in San Francisco, none have yet been located. This bow, made after he moved to New York, shows the clear influence of the Voirin school. The head is elegant, almost delicate, with a long nose. The chamfer is crisp and clean. The frog is well proportioned. The collar of the button fits the stick perfectly, though the rest of the button is a bit larger than the butt end of the stick.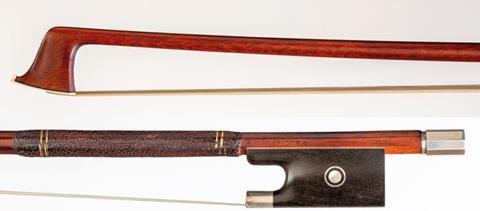 Photo: John Birchard
Stylistically, this bow is not as elegant as the other, yet Josephs' perfectionism is on full display. Also made after his move to New York, this bow has a short nose in proportion to the head. The chamfer is quite clean. Because he was not a full-time bow maker like his mentors in France, he had the freedom to experiment with different head styles and different cuts of wood – in this case, pernambuco cut on the slab. Interestingly, he stamped his name upside down on this bow.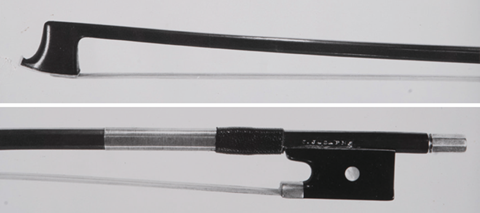 Photo: Courtesy Josephs family
This bow shows James Josephs was a good maker with an eccentric sense of style. The head is boxy, reminiscent of Thomas Tubbs, though the curve of the head is deeply concave. James probably did not stamp many of his bows.
Read: Bay Area bow makers: Bows on the bay
Read: Knopf dynasty: A tangled web