Just a handful of instruments by Michel Collichon have survived to the present day – but they demonstrate the skill and techniques of a master innovator. With a tenth example recently identified, Shem Mackey explains the appeal of the 17th-century viol maker to modern-day luthiers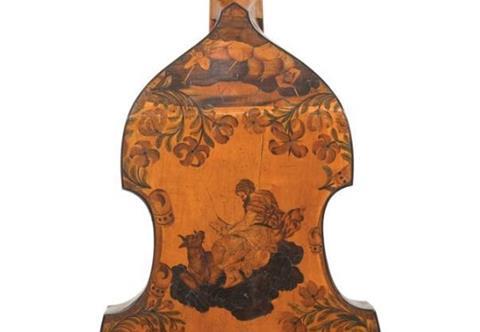 The 'Plan de Paris', recently identified as being made by Michel Collichon Photo Shem Mackey
The following is an extract from a longer article in our February 2020 issue. To read in full, click here to subscribe and login. The February 2020 digital magazine and print edition are on sale now.
The French viol maker Michel Collichon (1641–c.1694) is an enigma. His very few surviving instruments are among the finest viols in the world today, and we are lucky that a number of them are still in their original condition. His workmanship shows intelligence, creativity and confidence. His work is simple and inspired in equal measure and, for anyone interested in learning from extant instruments, it is hard to find or recommend a better master. The inconsistencies and points of difference in his instruments, from his wood choice to peculiarities in set-up, give the impression of a maker always striving to better his craft and who was unafraid to try new ideas and make changes to his method – marking him out as a unique talent among the French luthiers of his time. My recent research into another viol – the famous 'Plan de Paris' in reference to a marquetry map of Paris on the back – has determined that it, too, was made by Collichon, bringing the total number of known viols by the maker to ten. This is a good opportunity to re-appraise what we know about this enigmatic and creative luthier, based on close examination of the instruments themselves.
…
Carved heads
While original English viols came with carved heads and scrolls in equal measure, in France the carved head was the norm. The majority of carved viol heads (and indeed some violin scrolls) on instruments by Parisian makers during the late 17th century and into the 18th were carved by an individual called Lafille. These heads are very recognisable and can be seen on cellos, pardessus, hurdy-gurdies, violas d'amore and so on. Many are characterised by the heads bearing a 'ruff' with faces following a similar pattern: rounded features with a dimpled chin and rather small pouted lips; thinly closed eyes and arched eyebrows. But Collichon's carved heads show an entirely different style, suggesting he employed an alternative carver or may even have carved them himself. The heads on the 1691 and 1693 viols show many similarities. Both are 'pirate-like' with acanthus decoration and the rather odd pointed ears on the 1693 are again testament to the peculiarity of Collichon's work, whereas the 1683 'cherub' is distinctly different in style and harks back to an earlier classic aesthetic (figure 5).
To read the full article by Shem Mackey on Michel Collichon, published in our February 2020 issue, click here to subscribe or login. The feature includes detailed analysis of Collichon's history and instruments, from construction to varnish. Included is an index of the maker's instruments, and both internal and external photography (including the carved scroll). All photography by Shem Mackey.
The February 2020 digital magazine and print edition are on sale now.