What does a string quartet look for when commissioning a matching set of instruments, and how do luthiers go about fulfilling such a project?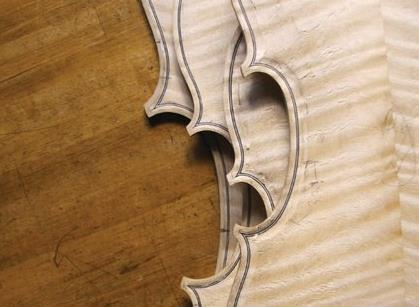 Sam Zygmuntowicz's matched quartet in progress
In this excerpt from the article 'Matches made in heaven?' published in The Strad March 2020 issue, US luthier Sam Zygmuntowicz describes the processes behind a recent commission to build a matched quartet of instruments for an association


Brooklyn-based Sam Zygmuntowicz has recently been making a quartet for an association, and is embracing a different approach from his usual focus on the individual. 'It's been interesting to think, almost in an abstract way, about what the voices of an ideal quartet should be,' he says. 'With this kind of project, the quartet is its own entity and has an identity that's somewhat separate from each of the musicians who will play it.' Zygmuntowicz likens his choice of models to fantasy football, or putting together an all-star cast. With input from a prominent quartet player who is advising on the project, the maker picked a Guarneri 'del Gesù' for one of the violins; a late 'del Gesù' for the other one; the 'Primrose' Guarneri 'filius Andreae' viola; and the Nicolò Amati cello that was played by Leonard Rose. 'The player wanted the cello to be deep enough that it left a little more sonic room for the viola,' says Zygmuntowicz, 'and I chose the viola model because it gives a very concentrated, focused kind of sound, and I think it will keep its individual voice.'
Read: Commissioning a new instrument – a guide for players
Read: Buying the right instrument for you
Read: I shy away from copying models that are too individual, says violin maker Sam Zygmuntowicz
Zygmuntowicz is using a set of wood sourced specifically for a quartet. To achieve unity in the finish, he is taking a different approach to the logistics of the making process: instead of building each instrument one at a time, he has been working on all of them simultaneously, getting the four bodies finished in the white before doing the final finishing and edgework. 'I'm conceiving the whole set as a composition, in a way,' he says. 'If I made them one by one, when the time comes to varnish them, the varnish is always a little different every time. So I want to get all the instruments ready, mix up enough varnish, and pull them all in together.'
To read the full article on matched quartets, in which players and makers discuss the challenges and benefits of commissioning and completing a matching set of instruments, click here to log in or subscribe
The digital magazine and print edition are on sale now.