The Museo del Violino is hosting a special exhibition of some of the National Music Museum's finest Cremonese instruments while the US institution is closed for renovations
Matt Collinsworth, director, National Music Museum: The collections of instruments at the National Music Museum (NMM) are representative of the grandest and best works of luthiers of past times. The nine musical gems presented in this exhibition have been chosen from our Witten-Rawlins Collection, not only for the reason that they are masterworks, but because their journeys through the pages of history have preserved them in nearly original condition.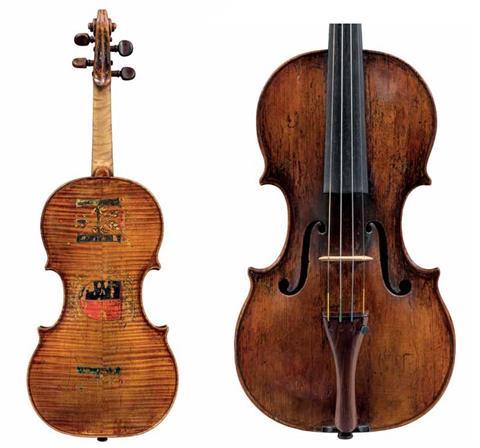 Throughout the centuries and by many twists of fate, they have continued to attest to the fundamental part that Cremonese luthiers have played in the history of musical performance. It is this fact that has made them an important and essential part of our collection and has encouraged us to share them in this collaborative exhibition.
The NMM was founded in 1973 when Arne B. Larson brought his vast personal collection to the University of South Dakota (USD). In the years that followed, his son, Dr André Larson, employed his artistic and historical judgement to create one of the country's most important museums of musical instruments, one that has the capacity to study, preserve, display and act as a steward to these cultural icons. Today the collection numbers 15,000 instruments together with supporting historical records that include the extensive Mahoney Music Collection of violinrelated literature.
After a successful funding campaign, it has been necessary to close the museum to the public as we complete renovations and expansions. This major undertaking was made possible through the support of our Board of Trustees, our supporters, USD, the State of South Dakota, and our home city of Vermillion. We have just built our Preservation and Research Center, which provides 2,140 square metres of new space to house and study our extended collections. By the autumn of 2020, we will have expanded our museum facility to provide 3,000 square metres of newly designed space for exhibitions, archives, libraries and performances.

Finally, by 2021, we will have completed 1,400 square metres of new permanent exhibitions, and our museum will reopen to the public.
With the museum closed for construction, our trustee, Claire Givens, became the driving force behind the project to bring a selection of Cremonese masterpieces from the Witten-Rawlins Collection back to their place of origin. She made the initial inquiries with Paolo Bodini and Fausto Cacciatori at the Museo del Violino. Ms Givens worked with our museum's curators to select the instruments for display and to handle other details of the planning.
As a result of her work and vision, the museum's Board of Trustees gave its support to the project, and a wonderful partnership was formed with our friends in Cremona. On behalf of the NMM, our Board of Trustees, and the University of The prestigious National Music Museum in Vermillion, South Dakota, is undergoing an architectural transformation, and is not set to reopen to the public until 2021.
But thanks to a close collaboration with Cremona's Museo del Violino, nine of the US museum's great Cremonese treasures are returning this month to the city of their birth, where they will go on display for more than a year. The landmark 'Reunion in Cremona' exhibition at the Museo del Violino runs from 21 September 2019 until 18 October 2020, and includes instruments by Antonio Stradivari, Nicolò Amati, Antonio and Girolamo Amati, Nicola Bergonzi and Lorenzo Storioni.
Matt Collinsworth, director of the National Music Museum, and Paolo Bodini of the Fondazione Museo del Violino introduce the background to the exhibition below, and two senior members of the National Music Museum's curatorial team profile the instruments that will be on display.
South Dakota, we offer our sincerest thanks to everyone who has worked so hard at the Museo del Violino to make this reunion of the finest of Cremonese instruments a reality. This year-long collaboration between our two museums is an essential part of our museum's ongoing mission, which is to share and learn from these treasures that are so important to both our countries.
'Our museum's mission is to share and learn from these treasures' – Matt Collinsworth
Paolo Bodini, member, Fondazione Museo del Violino board of administrators: The relationship between the National Music Museum (NMM) and the city of Cremona dates back to 1987, when great celebrations to mark the 250th anniversary of Stradivari's death were held in Cremona. On that occasion the NMM brought to our city the 1693 'Harrison' Stradivari violin and a bow attributed to Stradivari's workshop.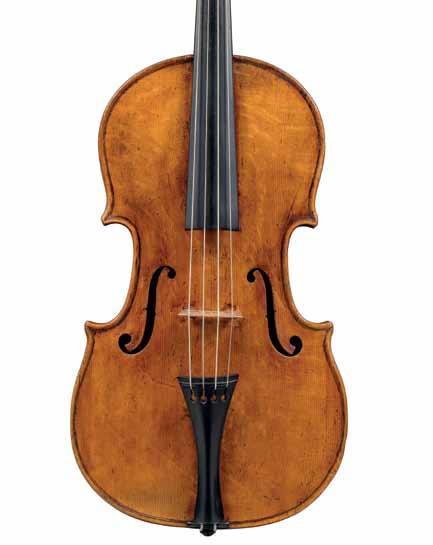 This good friendship, established over 30 years ago, remained alive in the following decades with reciprocal visits and exchanges of information and documents. It was strengthened yet further in the years 2005–7 when the Stradivari Foundation, of which I became president at the time, organised celebrations for the 500th anniversary of Andrea Amati's birth (1505). Two of the NMM's Andrea Amati instruments arrived from Vermillion for the first exhibition in 2005, and an entire quartet made by this first Cremonese violin maker were among the highlights of the 'Andrea Amati Opera Omnia' exhibition in 2007.
The Museo del Violino opened in its new building in 2013. We are very proud that the treasures of Cremona's 500-year-old violin making tradition are displayed together in a stimulating, interactive way and in a completely renovated facility. The NMM's decision to stay 'open' while its own building undergoes a great metamorphosis, and to take a substantial part of its fine stringed instrument collection to Cremona, is a source of great joy and satisfaction to us. As the exhibition name says, it will truly be a 'Reunion in Cremona'.
We are happy to be considered a trusted partner by such a prestigious museum as the NMM and we hope to continue the collaboration for many years to come.
Arian Sheets, curator of stringed instruments at the National Music Museum, and Margaret Downie Banks, the museum's associate director and senior curator, introduce the instruments in the new exhibition
'King Henry IV' violin by Antonio and Girolamo Amati, Cremona, c.1595
This violin is part of the final documented set of Amati instruments made for the French royal court. It bears the emblems of King Henry IV (1553–1610), the last French ruler to order violins from the Amatis for the royal court. Painted in black and gold on the violin's maple ribs is the Latin for 'Henry IV, by the Grace of God, King of France and Navarre.'
The top was made by a French maker in the first half of the 18th century. On the inside of the back, an inscription documents some of the violin's 19th-century history, including ownership by the French violin soloist and teacher Jean-Baptiste Cartier and repair by Nicolas Lupot.
Half-size child's violin

by Lorenzo Storioni, Cremona, 1793
This child's violin is in remarkably untouched, original condition. The wood choice and workmanship are somewhat more free and rougher than one would expect on an adult-size instrument from Storioni.
'Cutler-Challen' choral mandolin (mandolino coristo) by Antonio Stradivari, Cremona, 1680
This small mandolin is one of two surviving from the Stradivari workshop. Several patterns relating to mandolin construction survive in the Museo del Violino in Cremona. The current peghead is modelled after one of those patterns, since the original was lost, although the original neck survives.
'Rawlins' guitar by Antonio Stradivari, Cremona, 1700
The 'Rawlins' is one of five surviving Stradivari guitars. These instruments are not as ornate as many other Italian Baroque guitars. Instead, Stradivari was one of the first makers to highlight the natural beauty of the wood on a guitar. The 'Rawlins' has a spruce top and lush figured maple for the sides and two-piece back, and is varnished much like a violin. Stradivari's decorative details are elegant and restrained.
The 'Rawlins' is of a different model from most Italian guitars and likely reflects Stradivari's interpretation of the Spanish tradition. Its string length is rather longer than usual, setting it apart from Italian instruments of the previous century. The circle-and-diamond inlay motif around the soundhole is a signature Stradivari pattern, one that he also used on a group of violin-family instruments made for the Spanish court. The guitar has five doubled strings (courses), typical of the Baroque period.
Viola by Nicola Bergonzi, Cremona, 1781
This late Cremonese viola has its original neck, re-angled slightly at the heel, and original bassbar. The instrument is well preserved in an early 19th-century set-up, including an early bridge. Nicola Bergonzi was the grandson of Carlo, who worked in the Stradivari shop in the 1740s, following Antonio Stradivari's death.
Violin by Nicolò Amati, Cremona, 1628
Nicolò Amati survived the bubonic plague, and so did this violin. In the epidemic that raged across Italy from 1629 to 1631, around one in every three people perished. Among them, in Cremona, was Nicolò's master-maker father Girolamo, son of Andrea Amati. In the rival violin making town of Brescia, the plague struck down master craftsman Giovanni Paolo Maggini.
It fell to Nicolò to carry on the tradition of the Amati workshop and the Cremonese school. He not only shared the craft outside his family: he advanced it, creating masterpieces of his own. Nicolò is now regarded the greatest maker of the Amati dynasty. The tradition that Nicolò saved would profoundly influence the art of stringed instrument making, engendering a 'greatest generation' of luthiers: Nicolò Amati himself, Andrea Guarneri (c.1626–98), Austrian master Jacob Stainer (c.1617–83), and the most famous of violin makers, Antonio Stradivari (c.1644–1737).
A crown jewel of the NMM collections, this pristine violin bears an authentic Antonio and Hieronymus (Girolamo) Amati label but was actually made by Nicolò. Made of goldenvarnished spruce and maple, the violin builds on the stellar workmanship and sound quality achieved by Nicolò's famed grandfather Andrea. This brilliant instrument is still widely copied and reinterpreted by violin makers.
Violin by Girolamo Amati, Cremona, 1609
This violin is of the smaller Amati model, about a centimetre shorter than the standard violin. It has a noticeably flat top arching combined with more pronounced back arching.
Violino piccolo by Girolamo Amati, Cremona, 1613
This small-sized ('piccolo') violin by one of the famed Amati brothers, is about three-quarters the size of a modern standard violin and was designed for playing by an adult. It also provides a rare glimpse at what the finest Renaissance instruments looked like when they were made – preserved as it is in perfect, original condition, with the inlaid maple fingerboard and tailpiece and thick neck typical of the early 17th century.
It may have been made to perform at a higher pitch, as the neck's dimensions make it comfortable for an adult hand, and so violinists could play high passages without having to move their hand far up the fingerboard. The Cremonese composer Claudio Monteverdi called for 'violini piccoli alla francese', or small violins in the French style, in his opera L'Orfeo in 1607.
Most surviving 16th- and 17th-century Cremonese instruments were altered at some time to meet the changing needs of musicians and evolving concepts of the 'ideal sound'. (Sometimes necks and internal parts were replaced; sometimes different fingerboards and tailpieces were installed.) Perhaps because these very small, high-pitched violins eventually became obsolete, this little Amati was spared that sort of 'updating' – surviving more than 400 years in such excellent condition.
Violin bow attributed to the workshop of Antonio Stradivari, Cremona c.1700
This bow was once in the possession of the Spanish royal court, and the frog displays the armorials of Charles IV of Spain, who ruled from 1788 to 1808. The Spanish court owned other instruments by Stradivari, who long sought their patronage. The inlay on the bow appears to date to the period when Italian composer Gaetano Brunetti (1744–98) was court musician to Charles IV.
It is likely that this bow was used to perform some of Brunetti's prolific chamber music output. It is not known if this bow was originally designed for a screw-tightening mechanism, which it has now, or if this is a later adaptation.
All photos courtesy National Music Museum