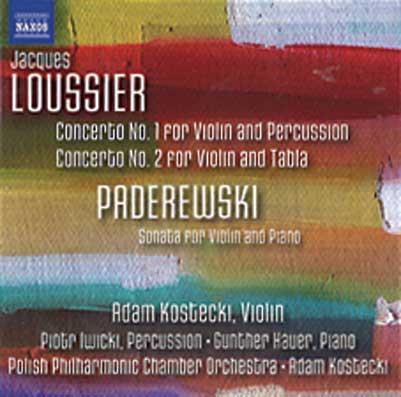 The Strad Issue: November 2014
Description: An unusual combination of composers and styles has its moments
Musicians: Adam Kostecki (violin/conductor) Piotr Iwicki (percussion) Gunther Hauer (piano) Polish Philharmonic Chamber Orchestra
Composer: Loussier, Paderewski
Catalogue Number: Naxos 8.573200
While the bizarre combination of repertoire on this curiously programmed disc makes for somewhat perplexing listening, it splendidly shows off the vivid, forthright playing of Polish violinist Adam Kostecki. He attacks the flowery Romanticism of the early Paderewski Violin Sonata with relish, in a big-boned, strongly projected approach, yet he also knows when to let things relax – in the dancing rhythms of a beautifully judged final movement, for example. Gunther Hauer is an exceptionally responsive piano partner, negotiating the effulgent music's mood swings expertly with a balance of subtle weighting and more extrovert passion.
Kostecki is equally broad and confident in the two concertos by Jacques Loussier, the French pianist and composer who rose to prominence in the 1950s and 60s with his jazz reinterpretations of Bach. The works here, though more recent, are shot through with the modal harmonies and cutting rhythms of jazz, and Kostecki plays them for all they're worth, pushing and pulling the rhythms around to expressive effect, and liberally adding stylish slides and portamentos. It's the sound that lets the recordings down, though: the boomy church acoustic with its multi-second decay robs the music of any crispness, and often reduces Piotr Iwicki's semi-improvised percussion contributions to a distracting background noise. In content and delivery, it's a curious disc all round.





David Kettle