Bassists from around the world will take part in a day of masterclasses, seminars, coaching sessions and performances on 16 October 2016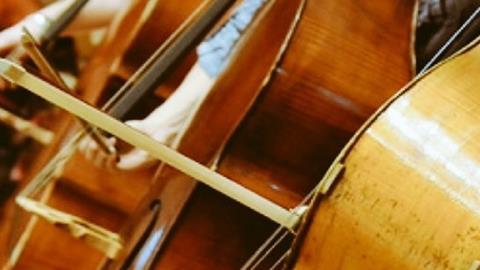 The Royal College of Music is to host its inaugural RCM International Double Bass Festival on Sunday 16 October in London, welcoming bassists from around the world for a day of masterclasses, seminars and performances.
Opening the festival will be Italian bassist and RCM professor Gabriele Ragghianti, who will perform Bottesini's Gran Duo Concertante with RCM violinist Charlotte Saluste-Bridoux. Ragghianti will also give the world premiere of a new work by Finnish composer Teppo Haute Hao in a lunchtime concert.
Bassists Alberto Bocini, Dan Styffe, Rodrigo Moro Martin, and Laurene Durantel will give a number of masterclasses and workshops throughout the day, while Tony Hougham, RCM professor and section principal bass of the Orchestra of the Royal Opera House, Covent Garden, will lead a session on preparing for auditions.
Other highlights include a session on pain-free double bass playing by RCM Alexander Technique professor Peter Buckoke and an exhibition of double basses with Italian luthier Cristiano Scipioni and British maker Martin Penning.
Prior to the festival on 14 October, co-principal bass at the Oslo Philharmonic Dan Styffe will visit the college to work with RCM string players in a Belle Shenkman International Masterclass.
Entrance to the Double Bass Festival on 16 October is free and no tickets are required. Tickets for the Double Bass Masterclass with Dan Styffe on 14 October are also free, but required. For details visit the RCM website.
Read: Violinist Maxim Vengerov appointed visiting professor at London's Royal College of Music
Read: London's Royal College of Music appoints cello professors Raphael Wallfisch and Jakob Kullberg