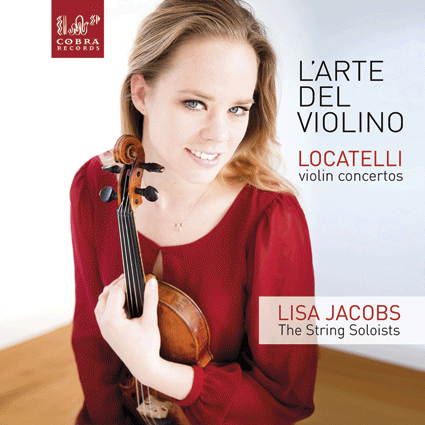 The Strad Issue: January 2017
Description: Persuasive readings of three of Locatelli's violin concertos
Musicians: Lisa Jacobs (violin) The String Soloists
Composer: Locatelli
Catalogue number: COBRA 0054
Dutch violinist Lisa Jacobs performs three of Locatelli's twelve 1733 concertos L'arte del violino op.3 with bold characterisation, and meets their formidable technical challenges with commendable athleticism and élan. She decodes Locatelli's complex notation with artistry, makes light of his sometimes stratospheric position-work, demonstrates remarkable finger dexterity in realising the requisite extensions and double- and multiple-stoppings, and masters with apparent ease his extraordinary range of annotated bowings. Her 1683 Rugeri proves an ideal partner in recreating Locatelli's bel canto style, and she dispatches the virtuoso capriccios in each concerto with finesse and aplomb.
Although she is a persuasive advocate of Locatelli's fertile imagination, Jacobs does not consistently display her own invention, either in extempore ornamentation or in those cadenzas that commonly link a capriccio with the final orchestral ritornello. But she adds some humour in a couple of cadenzas, quoting a snippet from Kreisler's cadenza for the first movement of Beethoven's Violin Concerto in the first Allegro of no.1, and from Paganini's Caprice no.9 in the finale of no.4. The String Soloists provide alert, sympathetic accompaniments and, apart from some occasional moments of imbalance (notably in the final Allegro of no.1), the recording is exemplary.
Robin Stowell