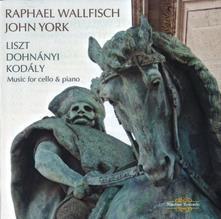 The Strad Issue: January 2013
Description: A disc of Hungarian cello music that impresses most in the lower registers
Musicians: Raphael Wallfisch (cello) John York (piano)
Composer: Liszt, Dohnányi, Kodály
A feast of Hungarian music is added here to Raphael Wallfisch's already hugely extensive discography. It is surprising to realise that Liszt composed and arranged a whole CD's worth for the cello repertoire, once you add in de Swert's transcription of the Consolations. Wallfisch (see page 32) gives arresting performances of the two Élégies, using a range of vibratos to widen his expressive palette in no.1 – very sparing in its use at first for the lilting melody – and playing right into his 1760 Gagliano cello with intense emotion and fast vibrato in no.2. Wallfisch sweeps the listener along with the mournful progress of La lugubre gondola, one of the few pieces Liszt originally conceived for cello, while the nostalgic waltz-time Die Zelle in Nonnenwerth paints a beautiful idyll, with convincing surges of emotion.
The rich tones of Wallfisch's lower strings enhance the Adagio of the six Consolations, but really come into their own in Kodály's Sonata, in particular the open C string, which has a deeply expressive character of its own. In the quasi parlando passages of the first movement the instrument really does seem to be speaking, even narrating a story.
Of course, Wallfisch's cello can also soar, and does so most transportingly in Ruralia hungarica, but its sound is never as beautiful on the A string, especially when playing fortissimo. The bright and clear recording only emphasises the rather hard, grainy sound it can produce, notably in the Allegro, ma non troppo of Dohnányi's Sonata. John York's amazing pianism is everywhere in evidence, but particularly so in the virtuoso lines of this sonata.
JANET BANKS