The Greek violinist offers an enlightened view of modern instruments that might inspire other players, as Ariane Todes reports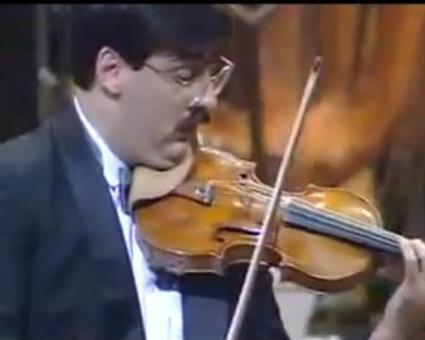 In a fascinating new interview for the Boston Musical Intelligencer, violinist Leonidas Kavakos explains his views on violin making and the fact that although he plays the 'Abergevenny' Strad, he also enjoys modern instruments: 'First of all, this is an art that I want to support.' Although he says he usually performs on his Stradivari, he's clear that some of the power of such an instrument derives from the fact that it has been played over time, evidenced by the fact that in Stradivari's era, players often preferred playing on Amatis because Strads still sounded 'raw'. He explains that instruments need time to grow and that given that we now think of Strads as 'unsurpassable', but that at the time they were made this was not the case, we can be optimistic about today's new instruments. He shows great reverence to the skill of turning a piece of wood into something that is both work of art, but also has function (although I'm not sure that all violin makers would agree that they only ever copy the forms of the great makers).
It's rare these days for top players to be so passionate about modern instruments. I can think of only a few – Christian Tetzlaff and Leila Josefowicz spring to mind as players who happily go on stage with modern instruments. In the past, it was quite common for virtuosos to commission instruments, and indeed it's these instruments that have done so well when sold on: Ruggiero Ricci's Curtin and Alf 1985 Guarneri 'del Gesù' violin recently sold for a modern instrument auction record $132,000. Before that, the record was $130,000 for a violin Sam Zygmuntowicz made for Isaac Stern. Even better, the great Jascha Heifetz even sponsored his own violin making competition in 1940 – what better sign of confidence and generosity towards the craft?
During recent conversations at the Violin Society of America congress in Baltimore (as ever when talking to luthiers) the subject came up of how to make modern instruments more available to players. As classic instruments move further and further from being affordable for most performers, commissioning or buying a modern instrument is a no-brainer. Clearly celebrity endorsement makes a significant difference to people's perceptions about this and it's great that Kavakos puts his mouth where his money is. Let's hope he starts a trend.
---
Subscribe to The Strad or download our digital edition as part of a 30-day free trial.
Photo: Ariane Todes