The Greek virtuoso shared his wisdom with Guildhall students. Ariane Todes reports back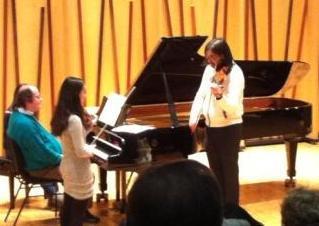 Leonidas Kavakos gave an incisive masterclass last night at Guildhall School as part of the Centre for Orchestra there. In front of a packed house he heard three students, giving them his full attention and wisdom, and demonstrating the analytic processes and attention to detail that make him one of the top violinists around today. Here are some of his insights:
On Beethoven Violin Sonata no.3:
(On swapping lines with the pianist): 'If everyone gives and no one takes then we have things we don't know what to do with. Someone has to take!'
'Between the vibrato you do and the articulation in the right hand there must be more coherence.'
(To the pianist): 'What gives it character is how you voice the middle notes – it will give the music richness.'
On Chausson's Poème
'It's not clear when you start which time you're referring to – past, present or future. If it's past, I cannot travel there due to a certain intensity in your playing, which is very good, but makes it very present. How do we bring that past into sound?'
'Already from the first note – is it a new note? In the score it doesn't look like the first note. Can you blend into what you get from the piano?
'You're telling me where the theme is. I'm smart enough to know!'
'In technical terms, Romanticism is that you get a little out of the form, you challenge the form.'
'I know you can play the violin. I know you can play vibrato. But I don't know what this note means.'
'If I have similar phrases in different places in different keys, I play them back to back to work out what to do with them. You can decide which sound you want for which place.'
'You are the GPRS for this piece. It needs decisions. You have to know where you are in the piece and how you're going to project.'
On the Tchaikovsky Concerto
'When you play your position doesn't change. It's blocking whatever you try to be. You have to be more free. You should be able to move within what you're doing.'
'You must feel the music physically. Normally people move too much, just to show off. With you it's the opposite.'
'If you're going to make coffee and you have 2kg of sugar, you only use as much as you need, not all of it.'
'I cannot forgive if I don't see that you're giving 1million per cent. In fact I start to try to see what's wrong.'
'Guide the bow in order that it gives you what it wants to give.'
'This is a Stradivari. It's not a bad violin. But if I treat it badly, it sounds bad!'