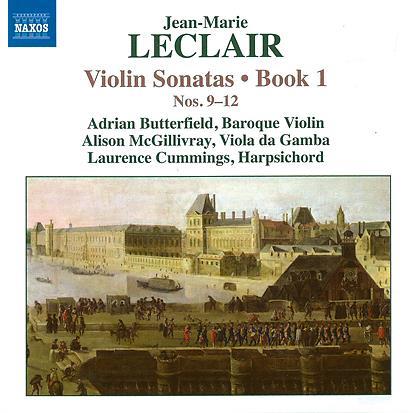 The Strad Issue: January 2010
Musicians: Adrian Butterfield (Baroque violin) Alison McGillivray (viola da gamba) Laurence Cummings (harpsichord)
Composer: Leclair
Adrian Butterfield, Alison McGillivray and Laurence Cummings bring sure technical command, sound stylistic sense and uncomplicated, utterly instinctive musicianship to these accounts, which conclude their project on Leclair's first book of violin sonatas. They skilfully realise the character and poetry of these works, which closely juxtapose the Italian and French styles.
Sample their lazy hints of inequality in no.10's French-style Sarabanda, their subtle rubato in the same sonata's light-hearted Rondeau, their charming elegance in the Gavotta of no.11 and their swagger in the extrovert finale of no.9 and you will understand what I mean. Add to these examples the neatly articulated opening Vivace of no.11, the floridly ornamented Italianate Adagio of no.10, the energetic bravura passages in the final Allegro of no.10, the graceful, varied Sarabanda of no.9 and the rustic quality of the same sonata's Allemanda and you will appreciate the multiplicity of styles and characters encapsulated effectively in this release. Further, Butterfield masters the multiple stopping and other virtuoso demands of the Twelfth Sonata with ease, communicating the largely two-voice texture of its Largos with striking lyricism and revelling in the contrapuntal complexities of its two fugato movements. A detailed, well-balanced recording and informative booklet notes complement this highly recommendable release.


ROBIN STOWELL