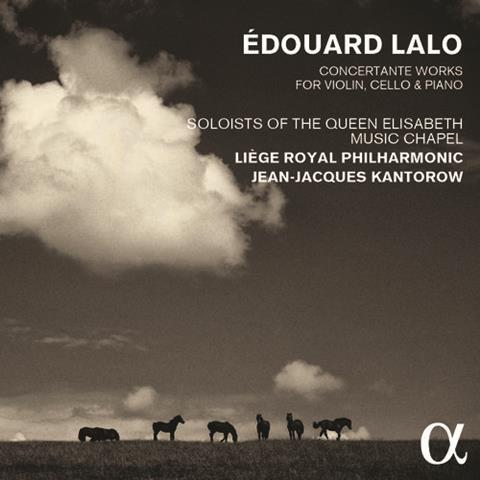 The Strad Issue: September 2016
Description: Young Queen Elisabeth soloists present Lalo's complete concertante works
Musicians: Vladyslava Luchenko, Woo Hyung Kim, Lorenzo Gatto, Elina Buksha (violins); Ori Epstein (cello), Nathanaël Gouin (piano), Liège Royal Philharmonic Orchestra/Jean-Jacques Kantorow
Composer: Lalo
Catalogue number: ALPHA 233 (three CDs)
Few second-rank composers can stand the 'completist' approach but the plus side here is that this project to record all Lalo's concertante works for violin, cello and piano offers a useful introduction to some much-neglected repertoire. Among these, the Fantaisie norvégienne for violin and orchestra, using Norwegian folk songs in an admittedly much less imaginative manner than Grieg, is somewhat pedestrian, despite Vladyslava Luchenko's ardent efforts. Likewise, the rather dull Romance–sérénade quickly lulls into predictable fare, although once again Luchenko is valiant in her delivery. Neither the Fantaisie-ballet nor the Introduction and scherzo from the ballet Namouna (also played by Luchenko) offer much musical reward, and the pyrotechnics of the F major Violin Concerto, superbly executed by Woo Hyung Kim, quickly pall.
If all this sounds unduly negative, other compositions do work well in terms of energy and encompass more strikingly fresh material. The charming and delicately orchestrated Guitarre for violin and orchestra effectively conjures up the sounds of Iberia,
which Woo Hyung Kim characterises with brilliance and a high level of expressivity. Two memorable folk songs from Russia also define the melodic material in the Concerto russe, given a fine performance by Elina Buksha. She really develops the deeper resonances of the melodic line, yet equally delivers on the technical side. The Cello Concerto is also towering in this present company. Instantly the material is better defined and the ideas more enduring. Ori Epstein excels, treading a delicate path between Classical restraint and Romantic expression. The result is that the performance has rhythmic strength and definition, and eloquence in the Intermezzo.
The Symphonie espagnole is, of course, a real crowd-pleaser, teeming with catchy melodies and boasting a dazzling virtuoso part. Although Lorenzo Gatto is so closely miked you can hear his breathing, and the orchestra occasionally has a rather muddy perspective in this rather reverberant recording, the overall effect is entirely winning, with fantastically sensitive violin playing dressed up with tremendous technical virtuosity.
Joanne Talbot