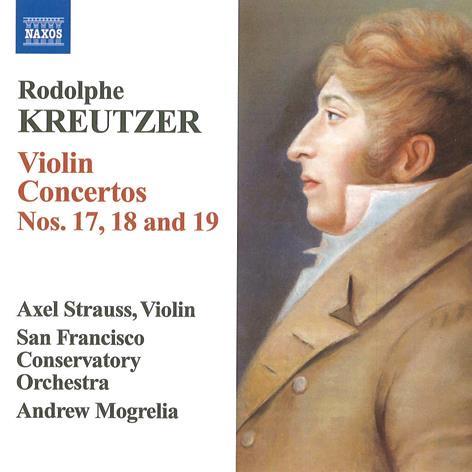 The Strad Issue: January 2011
Musicians: Axel Strauss (violin) San Francisco Conservatory Orchestra/Andrew Mogrelia
Composer: Kreutzer
Kreutzer's place in violin pedagogy is well known, and listeners to these concertos can entertain themselves by spotting melodies from his famous 42 Etudes of 1802. Nonetheless, these are fully formed works in their own rights. The 17th, with its bolero finale, is perhaps weaker than the others, but listeners need to align themselves with Kreutzer's languid writing – a style of proto-Romanticism with which many are likely to be relatively unfamiliar.
Axel Strauss, the first German violinist to win the Naumberg Violin Award in New York, in 1998, performs with great vitality – the finale of Concerto no.17 is particularly neatly accentuated, while chains of up-bow staccatos in the first movement of no.18 are beautifully judged. In the many cantabile passages, such as the slow movement of no.17, Strauss performs cleanly with an uncluttered sound that suits these works well. Although equally capable of dark hues, as in the elevated opening to no.18, Strauss performs E-string material with a clean and pure tone, and with a suitably chaste vibrato. All of this is conveyed beautifully by Naxos in a finely balanced recording, while the San Francisco Conservatory Orchestra is equally fastidious and yet suitably lively. This is an excellent recording by any standards.


David Milsom