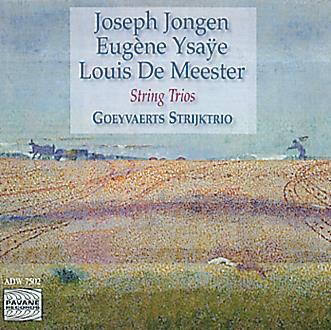 The Strad Issue: January 2006
Musicians: Goeyvaerts Trio
Composer: Jongen, Ysaÿe, De Meester
This disc features three Belgian composers who were working in the first half of the 20th century, but whose style and output occupied no common ground. Joseph Jongen, today remembered almost entirely for his organ works, was prolific in most genres and won the prestigious Prix de Rome in 1897 for his cantata Comala. The influence of Franck and the French Impressionists provided him with a rich tonal palette, and it is Debussy who hovers in the background throughout his highly engaging String Trio dating from 1948.
By comparison the great violinist Ysaÿe wrote little, and without the Six Sonatas for Solo Violin would probably have lapsed into obscurity as a composer. Harmonically his string trio, Le Chimay, is the most daring work on the disc, and presents considerable performing challenges.
The least known of the three figures is Louis De Meester (1904–87), originally a jazz musician who taught himself to compose in his 30s. He later embraced cutting-edge modernity, and the String Trio from 1951 employs a listener-friendly atonality to create an often dark and introverted mood.
I find the whole disc most rewarding, and wonder why such well-crafted music has been so long ignored. Though the release does not claim premiere recording status, I can find no other versions, and the De Meester appears to be his only work on international release. At times I was not always entirely happy with the intonation of the young Belgian-based Goeyvaerts Trio, but the players project each piece with the commitment that seldom-heard works require. The recording is a typical, well-balanced studio product that needed more air around the sound.
DAVID DENTON