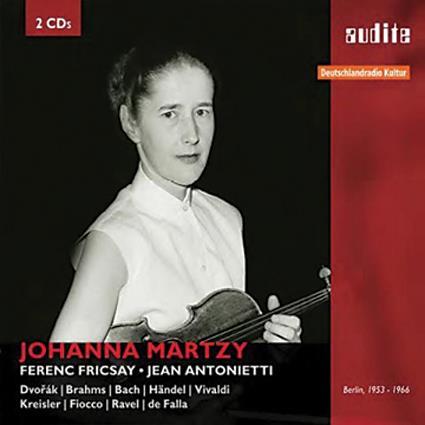 The Strad Issue: June 2015
Description: Historic recordings by a great Hungarian violinist
Musicians: Johanna Martzy (violin) Jean Antonietti (piano) RIAS Symphony Orchestra/Ferenc Fricsay
Composer: Bach, Brahms, Dvorák, Falla, Fiocco, Handel, Kreisler, Ravel, Respighi and Vivaldi
This set of German Radio recordings by Hungarian violinist Johanna Martzy (1924–79) contains a surprise. On 8 June 1953, two days before she began recording Dvorák's Concerto for DG with her compatriot Ferenc Fricsay and his Berlin orchestra, Martzy taped it for the radio with them, at the same venue but with a different studio team. Instead of three days, she had less than three hours, as Fricsay also set down Ravel's La valse.It is a magnificent performance of great power and intensity, especially where it is most necessary, in the Adagio. I normally find non-Czech interpretations of this concerto easy to resist but Martzy and Fricsay pay such attention to the rhythms that the result is irresistible. Even if you have the DG version, you need this one.
The rest is from 1962–66, with Martzy's usual partner Jean Antonietti where appropriate. He never matched her power, and in Brahms's G major Sonata the piano tone is a little strange, but the collaboration is sound and well rehearsed, and Martzy can take flight, as she does in the finale. The Adagio is played with rapt concentration. Bach's G minor solo Sonata breathes self-communion and fantasy in the slow movements, with trenchant rhythm in the Fuga and nice touches of chiaroscuro in the Presto. Handel's A major Sonata and Vivaldi's D major are sturdily and stylishly done, with eloquence in their brief slow movements and lovely trills. Fiocco's Allegro is superb, Kreisler's Rondino and the Falla–Kreisler Spanish Dance are delectable, and Ravel's Berceuse has infinite tenderness. The sound is excellent.
TULLY POTTER