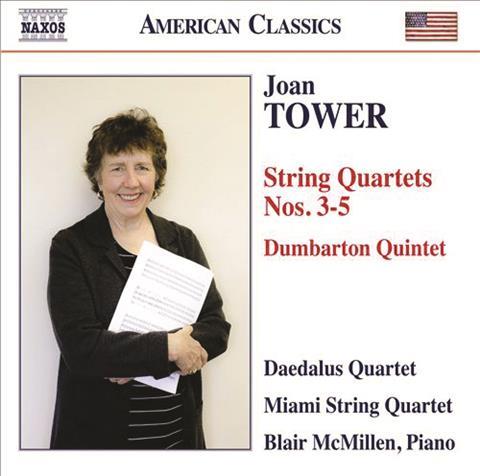 The Strad Issue: August 2016
Description: Joan Tower's relentlessly rhythmic works from two American quartets
Musicians: Miami Quartet (nos.4 & 5), Daedalus Quartet, Blair McMillen (piano)
Composer: Joan Tower
Catalogue number: NAXOS 8.559795
If you wondered who, after Bartók and Shostakovich, was carrying a flame for the string quartet as a microcosm of ordered life and an engine of discourse, Joan Tower would be one answer. These are well-made works, hot to the touch with semitonal dissonance. The quartet's constituent elements are more often treated as cogs on a giant flywheel than as distinct personalities.
Notwithstanding the counter-intuitively slow start to White Water (the Fifth Quartet, 2012) and some urgent cantabile melodies within Angels (the Fourth, 2008), there is a danger of overload if the disc is listened to straight through. Tower is no minimalist: these are rhythmically relentless, insistent pieces, pitched too close for comfort to an expressive monotone. Even the premise of Angels – to honour those who cared for a friend – offers little respite from jagged ostinato figures. Scratch beneath the churning surface and you realise that much of the writing is naturalistic, evoking mood and motion (of water in the Fifth, light in the Third from 2003) rather than pursuing a goal – except perhaps the target of tonal resolution, which can always be glimpsed in the distance.
The more varied pacing, dynamic relationships and instrumentation of the Dumbarton Quintet bring sweet relief at the end of the disc. Committed, idiomatic performances are recorded fairly close-up: as the building-site signs say, this is a hard-hat zone.
Peter Quantrill