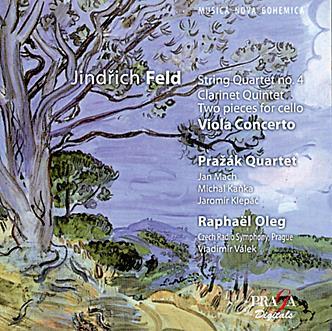 The Strad Issue: January 2007
Musicians: Pražák Quartet, Raphaël Oleg (viola) Michal Ka?nka (cello) Jan Mach (clarinet) Jaromír Klepá?c (piano) Czech Radio Symphony Orchestra, Vladimír Válek (conductor)
Composer: Jind?ich Feld
Jind?ich Feld (b.1925) is one of the foremost Czech composers of his generation, and if Bartók's influence rather overwhelms him on occasion, there is a neo-Classical warmth to his creative personality that is unfailingly attractive. The Fourth Quartet (1965) overflows with unmistakably Bartókian devices – pizzicato effects, passages of bitonality, 'night music' rustlings, eerie glissandos and so on – yet by avoiding the Hungarian's folksong obsessions Feld creates the impression of greater expressive freedom. The Pražák Quartet plays with a knife-edge precision and timbral sensitivity that makes the best possible case for the work's multi-faceted textural interplay. The players are joined by Jan Mach for the three-movement Clarinet Quintet (1999), a much later piece that while retaining an unswerving allegiance to Bartók is tempered by a Brahmsian espressivo that saturates the music with a heavy, nostalgic longing. Again the performance is expert, enhanced by a demonstration-worthy recording, which sounds extraordinarily life-like when the SACD track is activated.
It was at the instigation of the celebrated French engineer, musicologist and music critic Pierre-Emile Barbier that Feld composed a concerto for his own instrument, the viola (2003–4). The result, recorded live in Dijon's Franck auditorium, indulges the viola's autumnal expressive voice in the outer movements while also ensuring, à la Walton, that the central Allegro provides plenty of opportunity for virtuoso agility. Raphaël Oleg gives a masterly account of the high-octane solo part and is supported to the hilt by the Czech Radio Symphony Orchestra and Vladimír Válek. Michal Kanka's haunting interpretations of the two cello pieces (1954–5) round out a highly diverting programme.
JULIAN HAYLOCK