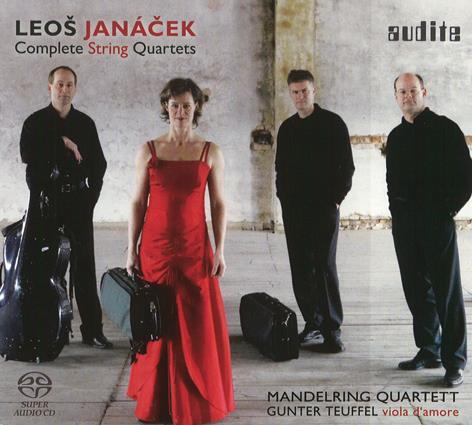 The Strad Issue: January 2010
Musicians: Mandelring Quartet, Gunter Teuffel (viola d'amore)
Composer: Janácek
This would count as a desirable disc of Janá?ek's quartets even without its added extra. And quite an extra it is: a second performance of the Second Quartet with a viola d'amore replacing the viola. The viola d'amore was Janá?ek's original choice, a personification of the passion he felt for the object of the 'Intimate letters' that give the quartet its title. That original (reconstructed) version is played here with Gunter Teuffel playing an instrument the composer himself would have known. Just to confuse the listener, the 'normal' version comes second on this disc, not third as it appears in the track listings.
The Mandelring players bring a remarkable high-voltage intensity to all these quartets, aided by a resonant acoustic, with an urgent sense of communication achieved through a freedom of pulse underlying powerfully sustained musical paragraphs. They can be beautiful, certainly, in both quartets, but this is disquieting stuff, superbly played. Against such playing the softer viola d'amore sometimes sounds a little weak, even with certain adjustments to the other parts – the normally bowed opening is now pizzicato. The ensemble is better balanced with violist Roland Glassl among his colleagues. But there is a bittersweet tang to the viola d'amore: no wonder Janá?ek was reluctant to part with it.



TIM HOMFRAY