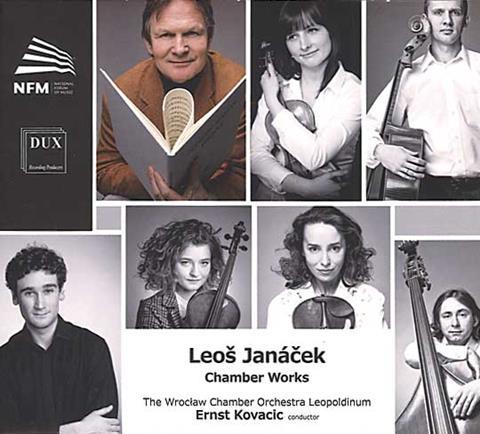 The Strad Issue: December 2014
Description: A quartet writ large and works from the composer's early years
Musicians: Wroclaw Chamber Orchestra Leopoldinum / Ernst Kovacic
Composer: Janácek
Perhaps still better known as a violinist, Ernst Kovacic has since 2007 been artistic director of the Wroclaw Chamber Orchestra Leopoldinum in Poland, with which he appears on this disc. It's a fascinating programme, with three works from the composer's early twenties – still clearly influenced by Dvorák and without the asperity of later works – contrasted with Kovacic's own string-orchestra arrangement of the First String Quartet, 'The Kreutzer Sonata'. There's also the beautiful early Znelka (Sonnet), a student piece for four violins, played with lissom sweetness by members of the orchestra.
Znelka turns out to be a suitable up-beat to the harsher sound world of 'The Kreutzer Sonata'. Here the playing is lean and neatly shaded. The string orchestra's dynamic range is absorbing and there's more subtlety in the inner parts. However there's a 'corporate' sensibility and the effect is less searing, less unbuttoned than it might otherwise be: those steely sul ponticello tremolos in the first Con moto movement, for instance, do lose their edge, but the playing is suitably finely wrought and tensile, the short motifs tightly shaped.
In some ways the early Idyll and Suite are the most interesting pieces, these performances presenting them as far more than sequences of charming folk-related or pastoral works. With exemplary recording quality, this is a highly recommended release.
Edward Bhesania