The competition's tenth edition took place in Brussels, Belgium from 2 to 5 March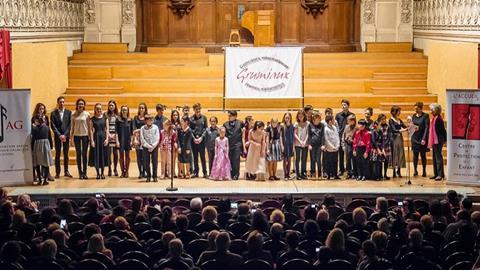 The tenth International Arthur Grumiaux Competition for Young Violinists, which took place in Brussels, Belgium from 2 to 5 March, has named its 2017 category prize winners.
Category A, for participants aged ten years and under, was won by ten-year-old Fiona Khuong-Huu from Japan. Second prize was shared between ten-year-old Laçin Akyol from Turkey, ten-year-old Theodor Kaskiv from France and nine-year-old Alexander Kulitskiy from Germany.
First prize in Category B, for violinists aged 13 years and under, was awarded jointly to eleven-year-old Ryota Nakamura from Japan and to ten-year-old Yunci Kaelyn Soh from Singapore. Second prize was awarded to four participants - 13-year-old Sabina Dazhaeva from Russia, eleven-year-old Jana Jakovljević from Serbia, twelve-year-old Hina Khuong-Huu from Japan and twelve-year-old Theodore Kim from Belgium
Category C, for contestants aged 17 years and under, was won jointly by 15-year-old Georgii Moroz from Ukraine and 14-year-old Pal Laszlo Szomora from Hungary, while second prize was shared by Nilufer Sude Guclu from Turkey and Gaia Trionfera from Italy, both aged 16.
No first prize was awarded in Category D, for violinists aged 21 years and under. Second prize went to 17-year-old Arthur Decaris from France, while third prize was awarded to 20-year-old Judyta Kluza from Poland.
This year's jury comprised Dora Schwarzberg, Roman Fedchuk, Tetiana Le Menestrel, Shirly Laub, Muhammedjan Turdiev and jury president Igor Tkatchouk.