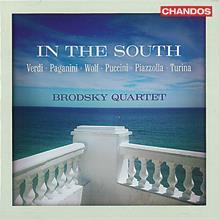 The Strad Issue: January 2013
Description: Southern heat becomes tangible in this well-considered collection
Musicians: Brodsky Quartet
Composer: Verdi, Paganini (arr. Cassidy), Wolf, Puccini, Piazzolla & Turina
It's hard not to be seduced by this selection of pieces suggestive of Italy (and easy to forgive the interloping pieces by Turina and Piazzolla, which at least adhere to a Latin theme). The playing of the Brodsky Quartet, 40 last year, is appropriately sun-drenched too. There's lightness and a heel-clicking dance spirit in Wolf's Italian Serenade and an even bolder colouring in Turina's The Toreador's Prayer.
Perhaps the most typically Brodsky piece is Piazzolla's Four, for Tango, where the players take the swooping glissandos, instrument body-tapping and sometimes violent flashes in their stride. Verdi's Quartet, worthy of renewed interest in the composer's bicentenary year, is the most substantial piece, if the least outwardly suggestive in pictorial terms of the disc's theme. The Brodsky musicians bring a characterful skipping feel to the Andantino as well as a narrative quality that reflects the composer's operatic instincts. And the group's fleet-footedness and tight co-ordination are on clear display in the fugue of the scherzo finale.
Viola player Paul Cassidy's arrangements of two Caprices from Paganini's op.1 highlight further colour – in the mandolin-like tremolos of no.6 and the flamboyant, decorative variations of no.24. And there's a warm but vulnerable Puccini Crisantemi. Add to this a clear-sky recording and you have a disc that brings light as well as heat.
NB. The Brodsky Quartet graced the cover of the April 2012 issue. Click here to find out how to download it now.
EDWARD BHESANIA