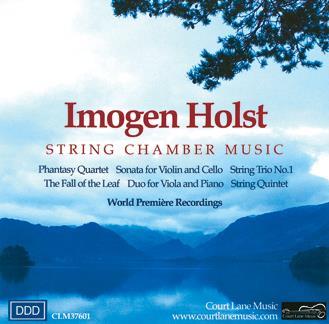 The Strad Issue: January 2009
Musicians: Court Lane Music
Composer: Imogen Holst
'More than Britten's Girl Friday,' proclaimed a recent article about Imogen Holst. Just how much more soon becomes evident from this CD, a selection of her chamber works written between 1928 and 1982. It's rather moving to hear these works, most of which remained in manuscript while their composer used her talents in folksong arrangements and in assisting her musical heroes Benjamin Britten (between 1952 and 1964) and her father, Gustav.
It's the music itself that takes pride of place in these world premiere-recordings – you have to look inside the booklet to find out who the musicians of Court Lane Music are, and to discover the record label's two owners among them: first violinist and second cellist Simon and Thomas Hewitt Jones. But they needn't be so bashful, as these are committed and eloquent interpretations that put the case for the music convincingly.
The disc traces Holst's development from the influence of her father and teachers – the solo violin line in the Phantasy Quartet (1928), beautifully played by Simon Hewitt Jones, is highly reminiscent of Vaughan Williams, who taught her at the Royal College of Music – to the final triumph of her String Quintet, written in 1982, two years before her death. En route we pass through the Sonata for Violin and Cello (Vienna, 1930), most effectively and originally written for the two instruments, and the twelve-note experimentation of the Duo for viola and piano (1968), in which violist Tom Hankey plays with rhythmic dexterity but a rather thin tone.
From so linear a composer, the moment at the end of the Quintet's Variations (on the final theme in her father's sketchbook), when the instruments join together at last in hymn-like harmony, feels of almost transcendent significance. The recordings, made in a church acoustic, are generally just the acceptable side of reverberant.
JANET BANKS