25-year-old violinist Asi Matathias discovered the paradoxically liberating power of discipline during his studies with the charismatic performer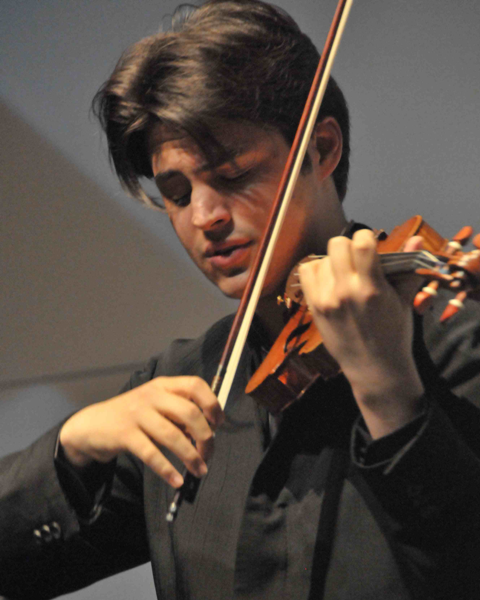 How do you find your own musical voice while studying with one of the world's top performers?
There is no simple answer to this and there is definitely no magic formula. Indeed, studying under the great players can be a mixed blessing. On one hand you are working with the very best: benefiting from professionals who offer wonderful musical insights, have incredible technical command of the instrument and provide valuable tips that only an active soloist is able to give. However, there is also the charismatic and possibly dominant personality of the teacher, your admiration for them and sometimes a conscious or subliminal inclination to imitate them. It is important to balance these factors in order maintain your personal voice.
When I first started working with Pinchas Zukerman, he took me back to the fundamentals of violin playing. He wanted to 'clean the system' as he called it, and demanded that I cancel all scheduled concerts. I was, at first, a bit taken aback by this. We spent a great deal of time on how to approach a piece, how to analyse it, and especially how to practise. Putting in the hours of practice is not enough; it is vital to know how to work and what to work on in the most efficient way. With all that in mind, it is very easy to fall into the trap of imitating. When Zukerman plays, it is easy to think and feel that his is the only possible way of playing. This is the characteristic mark of only a handful of artists nowadays.
He has a complete knowledge of his hands, of what he does with the bow and his left hand in relation to the bridge. What he seeks is a complete command of the instrument, so he may always express his musical intentions. In the first year he subjected me to a regime of exercises and repertoire that he thought appropriate and necessary: there was very little musical discussion.
It felt as if he was a gardener and I was a plant being grown in a certain way. Even if I wanted to grow differently, he would dictate the direction and the method. I had very strong musical ideas of my own and felt at times that I was not being given the chance to express them. What I didn't realise then, but do now, is that the discipline, far from hampering me, made for greater creativity. It gave me more tools and a bigger palate with which to express my own musical ideals: my voice.
Your personal voice is something that cannot be taught, because it comes from within. It is in you DNA. It connects your emotional life with your musical studies and experiences. The trick (easier said than done) is to figure out a way of shaping the theoretical knowledge you have accumulated during the years of study to the mold of your personal musical artistry.
There is something very exciting and fresh and about young players because their playing comes straight from the gut or the soul (in Hebrew neshama). However, there is often a wobbly element. It can fly or fall flat. Zukerman taught me how to control and discipline my emotional outpouring so that I was in command of my musical voice.
If I had to name the one thing I cherish the most in what I learned (even more than the incredible and inspiring musical input) I would say, without hesitation, the discipline of approach and drive for perfection – that nothing is good enough and there is always room for improvement. Small things that most performers take to be unavoidable blemishes were not tolerated by Zukerman, and he expected me to find them intolerable too. What it did for a youngster like me was open my ears and help me develop a more nuanced, keener way of listening. Throw in my inexhaustible curiosity, and that is where the journey beings.
Israeli violinist Asi Matathias debuts at Zankel Hall, Carnegie Hall, New York on 30 March, performing a recital of Brahms, Beethoven, Strauss, Takemitsu and Saint-Saëns with pianist Victor Stanislavsky.
Subscribe to The Strad or download our digital edition as part of a 30-day free trial. To purchase single issues click here.