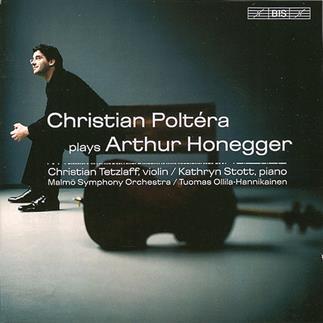 The Strad Issue: January 2008
Musicians: Christian Poltéra (cello) Christian Tetzlaff (violin) Kathryn Stott (piano) Malmö Symphony Orchestra, Tuomas Ollila-Hannikainen (conductor)
Composer: Honegger
Following on from his disc of music by Othmar Schoek, rising Swiss cello star Christian Poltéra turns to the works of another of his countrymen, Arthur Honegger. Honegger's life was full of paradoxes, the booklet notes opine, but surely his music is even more so. Within three minutes of the opening of the 1929 Cello Concerto we experience lush pastoral, a sentimental Cole Porter-like melody with a bit of a swing to it and a savage, discordant interruption. Poltéra, a pupil of Nancy Chumachenco and Boris Pergamenschikow before studying with Heinrich Schiff, relishes the opening theme's Romanticism, playing it with a wide vibrato, free portamento and a beautifully lyrical nostalgia.
The Cello Sonata and Sonatina, written only a year apart, are certainly no matching pair. In the more introverted Sonata the dark tones of Poltéra's 1675 Andrea Guarneri on the lower strings mingle rather confusingly with the resonance of Stott's Steinway. The neo-Classical Sonatina sees Poltéra relishing the expressive intervals in the 'Lent et soutenu', and the duo making light work of the whirlwind 'Vif et rhythmique' finale.
It's the attractive later Sonata for violin and cello of 1932, though, that is the disc's highlight. The opening, played in octaves, inhabits the sound world of Ravel's Quartet. There's lots of effective writing for the two instruments and Tetzlaff's Stravinskian doodling in the Andante is beautifully free. The recording, the most vibrant of the four, was made in the Mozartsaal of the Vienna Konzerthaus, in which Tetlzaff's impassioned melody over Poltéra's strident cello chords in the finale ring out impressively.
JANET BANKS