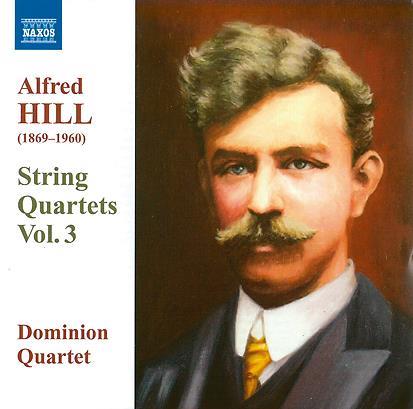 The Strad Issue: January 2010
Musicians: Dominion Quartet
Composer: Hill
This disc marks roughly the halfway point in Naxos's ambitious project to record all 17 quartets by the prolific Australian composer Alfred Hill (1869–1960), who spent his formative years in New Zealand. It features three works composed between 1920 and 1935 whose musical language explores an extraordinary mélange of contrasting styles.
The Dominion Quartet, with Rosemary Harris and David Pucher sharing second violin duties, acts as a dedicated guide to these seldom-heard works. Its members, mostly principal players with the New Zealand Symphony Orchestra, are technically assured and intensely warm-hearted, and they give passionate, committed performances, emphasising the music's dramatic oppositions while uncovering many of its hidden motivic threads. However, they seem to lack the precision, subtlety, internal balance, blend and attention to detail of more seasoned chamber ensembles, notably in the second movement and finale of no.5 and the opening movement of no.9, and their overall sound needs greater variation of dynamic and timbre to sustain interest.
The close recording allows few blemishes to pass unnoticed. Nevertheless, particular highlights include the finale of no.7, with its effective thematic recall and Dvo?ákian coda, the same work's nocturnal Andante, featuring David Chickering's fine cello playing, and the impressionistic Andantino of no.9.
ROBIN STOWELL