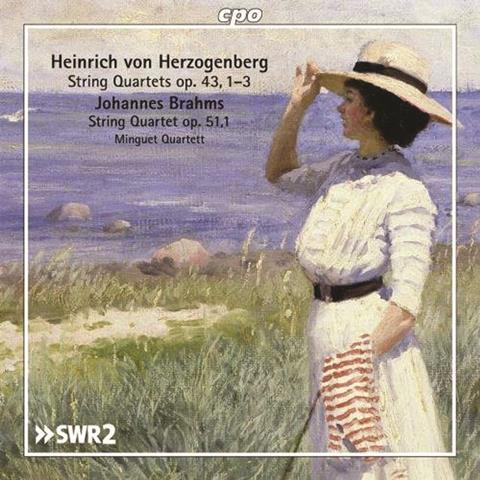 The Strad Issue: December 2016
Description: Fascinating quartets from a friend and colleague of Brahms
Musicians: Minguet Quartet
Composer: Herzogenberg, Brahms
Catalogue number: CPO 777 084-2
Heinrich von Herzogenberg (1843–1900) is neither the first nor the last Brahmsian who is now making slow headway in the record catalogues (see also Gernsheim, Rufinatscha and, for that matter, Bruch), but he was one of the most constant of the composer's correspondents. The wheels were doubtless greased by Brahms's pupil Elisabeth von Stockhausen, who became Herzogenberg's wife in 1868 while remaining both a regular point of contact for Brahms and probably another object of his unrequited affections.
Dating from 1884, the op.42 quartets are the mature fruits of an imagination disciplined by academic training and occupation (he became a professor of composition in Leipzig the following year). Opening melodies are long-breathed, their counterparts lithe and songful, especially in the first movement of the G minor First, which works its way back to the recapitulation with a deliciously Brahmsian example of rocking tonal vacillation. An episodic Andantino is succeeded by a nervous scherzo surely modelled on the opening of Brahms's own op.51 no.1, then a hemiola-tinted finale. The Second unfolds along similar lines, too comfortably for its own good, but the Third has a Classically proportioned charm, better tunes and a summery freshness of expression.
The Stuttgart Radio studio recording is surprisingly full and resonant; CPO's documentation is invaluably comprehensive. My reservations lie more with the performances by a German ensemble specialising in new music, which has recorded an invaluable complete set of Wolfgang Rihm's quartets. The Minguet players lack nothing for commitment or technical address but their approach presses heavily and relentlessly on music that wants more space and air to sing. The Brahms is haunted by some anachronistically Expressionist colouring and is thickly congested in the outer movements: you can certainly hear where Herzogenberg was coming from, and where Rihm was heading.
Peter Quantrill