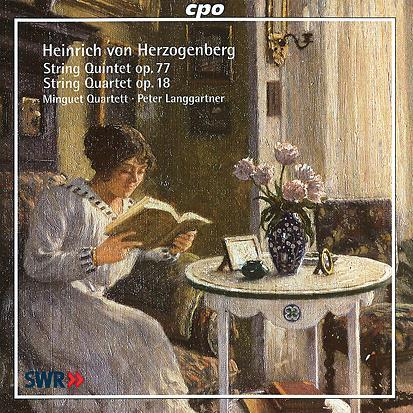 The Strad Issue: January 2010
Musicians: Minguet Quartet, Peter Langgartner (viola)
Composer: Herzogenberg
Heinrich von Herzogenberg (1943–1900) modelled most of his chamber works on those of his close friend, Brahms, absorbing virtues such as their symphonic breadth, formal clarity, powerful rhetoric and intense harmonic language. The members of the Cologne-based Minguet Quartet give a committed and impassioned account of Herzogenberg's First Quartet op.18. They forge a rich, well-integrated sound and are faithful throughout to the composer's expressive demands, emphasising the various dramatic oppositions in the first movement and responding flexibly to gesture. They imbue the Andante with lyricism and poetry and revel in the Presto's rhythmic interplay and the contrasts of the 'Sailors' Hornpipe' finale.
Violist Firmian Lermer replaces Irene Schwalb in the ensemble's ranks for Herzogenberg's String Quintet op.77, with Peter Langgartner as second viola. These players respond even more readily to the expressive language of this broadly conceived work, communicating the contrasting emotions of its big-boned outer movements and reproducing to great effect the ghostly whispering of its 'scherzo'. The work's kernel is its second movement, in which a song composed by Herzogenberg's wife provides the theme for five delicately wrought variations, each strongly characterised here. Regrettably, though, Herzogenberg's dense textures often muddy the waters, a problem that CPO's engineers have been unable to overcome.


ROBIN STOWELL