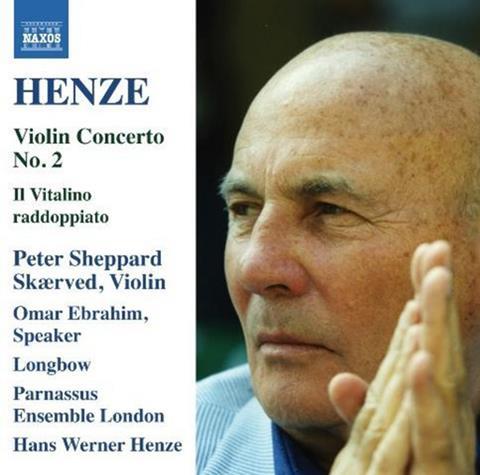 The Strad Issue: July 2015
Description: Clarity and conviction in Henze's uncompromising concertante violin music
Musicians: Peter Sheppard Skærved (violin/conductor) Parnassus Ensemble/Hans Werner Henze, Longbow
Composer: Henze
This disc is the completion of a two-decade venture by Peter Sheppard Skærved to record Henze's concertante music for violin (I reviewed the first volume, of Concertos nos.1 and 3, in September 2006). Il Vitalino raddoppiato (1977) is a real curio: an expansively laid out, lushly figured neoclassical encounter with composer Tomaso Vitali, a 'chaconne on a chaconne'. Neither the tone nor tuning of the solo part is all it might be, and Sheppard Skaerved seems to be fighting for prominence in the closely recorded mix of a Baroque-style orchestra.
The Second Concerto is the draw. Dating from 1971, it belongs with other multimedia works such as the Second Piano Concerto and Tristan as Henze's most vital engagements with a Romantically inflected modernism. Over six movements and 35 minutes it urgently seeks to bring together spaces of concert-hall and theatre in staging a contemporary poem, based on the historical figure of Baron Munchausen, with roles for baritone (here sung by Omar Ebrahim) and electronic tape.
The composer admitted he had written an 'almost impossible' solo part; this recording being taken from a 1991 live BBC broadcast, Sheppard Skærved's performance is a little rougher around the edges than the comparative studio version on MDG. There's a lot to take in, and this excellent concert performance has both cool clarity and burning conviction. The gain in rhetorical passion and composer-led authority over the MDG disc is decisive.
PETER QUANTRILL