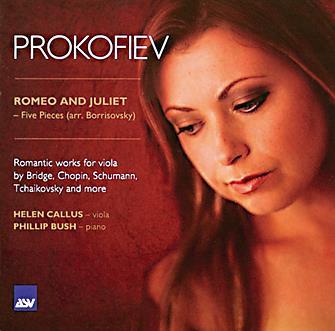 The Strad Issue: January 2008
Musicians: Hellen Callus (viola) Phillip Bush (piano)
Composer: Prokofiev (arr. Borissowsky), Vaughan Williams, Tchaikovsky, Wieniawski, Bridge, Swain, Tertis, Schumann & Chopin
For her latest recording, Helen Callus has researched the many transcriptions made by the 'Father of the Russian Viola School', Vadim Borissowsky (he himself favoured this Germanised spelling of his name, which on the CD is curiously spelt as 'Borrisovsky'). In Tchaikovsky's Ardent declaration, Callus is up against a 1951 recording by Borissowsky himself. Her dark, expressive sound, on a viola by Gabrielle Kundert, compares very favourably indeed with the master's 18¾-inch Gasparo. While many of these pieces are slow, the variety of styles and Callus's eloquence dispel any idea of monotony. Indeed, her virtuosity in Prokofiev's Young Juliet and Mercutio is admirable, with every note clear in spite of the breakneck tempo.
Two other viola pioneers are represented on this CD: William Primrose with his transcription of None But the Lonely Heart (and here Callus doesn't quite emulate Primrose's ability to sing out in double stops high up on the A string), and Lionel Tertis with Sunset, an original composition redolent of the Edwardian salon, attractively paired with Freda Swain's Song at Evening.
Schumann's Adagio and Allegro may be considered an original piece, too, since the composer suggested the viola as an alternative to the original horn. Callus and Phillip Bush make the most of Schumann's harmonic complexities, and take the Allegro at a very brisk pace indeed. Michael Lieberman's idiomatic arrangements of Bridge and Chopin demonstrate that the Grand Tradition is very much alive. I enjoyed this lovingly produced CD immensely, and hope that there's more of the same where it came from.
Carlos María Solare