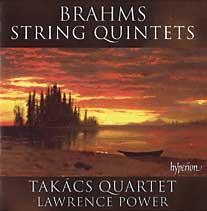 THE STRAD RECOMMENDS
The Strad Issue: January 2011
Description: Performances that bring out all the characteristics of Haydn's art
Musicians: Takács Quartet
Composer: Haydn
The Takács Quartet seems to be working its way backwards through Haydn. The opp.76, 77 and 103 quartets are already in the Decca catalogue, and now here are opp.71 and 74 for Hyperion. Does it need saying that they're awfully good? Here is Haydn in all his inexhaustible moods and guises, the poet and trickster, humorist, melodist, the constant source of wonder. These are works that can be approached in so many ways, but the Takács players have the magical gift of playing them so that they seem absolutely right. The sound is warm and generous, particularly in this immediate and vibrant acoustic. The playing is vivid without overstatement, in one place imbued with a subtle intimacy, in another earthy and dancing. It is also a demonstration of the art of bowing. Listen here to how many different ways a staccato phrase can be played, how a veiled tone can morph into something clear and vivid, and to the thousand and one varieties of articulation.
In the opening Adagio of op.71 no.2 rich broken chords – no attacking crunches here – punctuate a line of soft and delicious anticipation leading into the open-hearted high jinks of the Allegro. The slow movement seems to emerge all in one breath, for all the push and pull of their easy rubato, as its long melodic lines extend seamlessly and the decorative semiquavers weave expressively around. The first movement of op.71 no.3 is forthright, crisp and purposeful, without the languor evident elsewhere.
A naive elegance pervades the Andante grazioso of op.74 no.1, played with apparent, and deceptive, simplicity. The finale fairly scuttles along, as does that of op.74 no.3, given a swirling, hot-blooded performance. These two discs are a constant and rewarding delight. Let us hope that more will be along soon. If the trend continues, that would be op.64.
TIM HOMFRAY